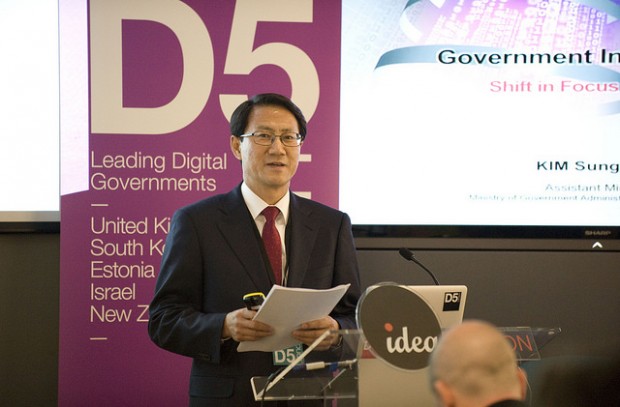 Why Korea?
A few weeks ago I led a delegation from the British Government to engage closely with our Korean counterparts. With a huge market, excellent education and a record for technology you'd think that we in Britain would be happy to settle for working with our colleagues in the European Union. Why, then, is Britain reaching out so strongly to Korea?
Firstly Korea has a reputation for excellence in technology and manufacturing that we respect - and need to learn from. Right at the very heart of a digital economy is universal high speed connectivity, something that Korea leads the world in. We want London to be the most connected city in the western hemisphere; we know who wins that contest in the east and we want to learn from it.
Second is the approach of government - last year President Park Guen Hye's state visit to the United Kingdom was a wake up call for all of us. She said that the future of the Korean economy would be in digital and creative industries. For a country with such a strong manufacturing pedigree this was big news. As one of my colleagues commented at the time, if Korea is going to do that then life is going to get much more competitive. Which is a good thing because competition drives growth.
And growth in start-ups is something that Korea is excelling in - already $3.7bn USD has been invested for the next three years, and the culture of change and entrepreneurship is growing.  When we visited Seoul recently, one of our hosts even translated Saul Singer's dynamic Start up Nation into Korean.
Thirdly we discovered that many of the reforms we were bringing to the British Government were being done in Korea. Indeed, some of what we considered our best ideas - the G-Cloud, building government systems in open source code - were already well established. The EGov Frame programme, for example, is one of the most forward-thinking government initiatives we've seen.  All governments do roughly the same thing, so why not share the best code and processes and save all our taxpayers the headache? Korea exports its open source government systems to Vietnam, Bulgaria, Tanzania. It just makes sense.
A digital government based on user need
In the United Kingdom we are in the fourth year of major government reforms. We're building a digital government based on user needs because a government should be relevant to its citizens, and the public services we rely on should be simpler, clearer and faster. We're doing this using a very simple premise - we design all our services around the user. That means they should work first time, online. And if citizens can't access services online we assist them to get the services they need. It means we have to make our services as good as the very best on the web - "so good that people prefer to use them".  We call this digital by default - and it's right at the heart of everything we do.
This will deliver big savings, and not just in the cost of implementation (we had been spending 1% of the economy on government IT) but in the ability to reduce the delivery cost of services.  But at the same time we have started to use government to grow our digital economy.
Supply chain
In 2010 our direct supply chain was small - 12 large companies dominated the market for government technology services. Our Prime Minister set us a target of ensuring 25% of government contracts went to small and medium businesses. He wanted to make our supply chain more diverse, encourage innovation and reduce the cost of what we were buying - something that a competitive market with a dynamic mix of large and small companies would deliver.
We're transparent about what we do, so you can see the result of our G-Cloud here.  We're buying more than 50% of services from small businesses - but as you can see from the maps below, we've changed our supply chain and the effect that this has had on growth has been really positive.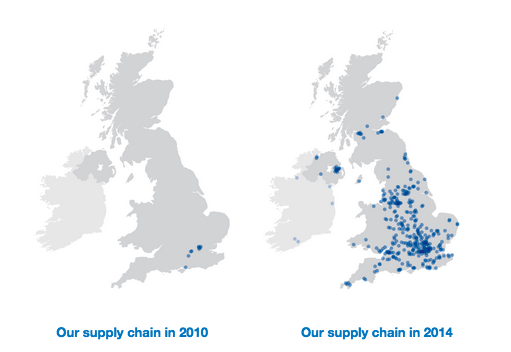 Of course government isn't the only reason Britain has a strong tech startup and technology culture, but we're doing our bit.
Open Data
We're teaching our children how to code - it's a core part of our national curriculum.  We're also committed to Open Data and Open Government. British pioneers such as Sir Nigel Shadbolt and Sir Tim Berners-Lee have established the Open Data Institute, which has just opened a node in Korea. And we are open about how government works - our performance platform helps us identify how our digital public services work - for the first time citizens can see a government working in real time. For example applying for vehicle licences or booking visits to prison.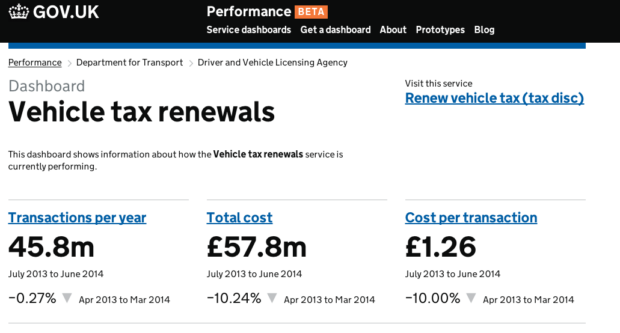 There is so much in common that it makes absolute sense for us to work closely with Korea. We're both very international trading nations who are committed to digital and creative industries and are using similar Open Source approaches to building digital governments.
D5
During our visit to Seoul we held the first of a series of workshops to make that collaboration stronger and more effective, and we've continued working together at the inaugural D5 summit which we hosted here in London last week.  Together the United Kingdom and Korea can make government simpler, clearer and faster for all our citizens.
This was originally published in the Chosun Ilbo, Korea's leading daily newspaper.
Follow Liam on Twitter and don't forget to subscribe to the Government Technology blog.