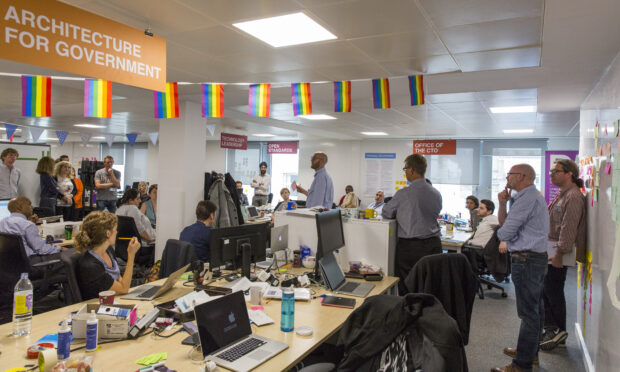 Technology Group is here to help government harness the full potential of technology and the internet by supporting, challenging and providing utility to our community of technology leaders and practitioners.
The technology community should cultivate an environment in which we feel able to make bold decisions and confidently challenge bad ones.
Work that makes a difference should be celebrated, shared and reused. Barriers which halt the progress of those individuals, teams and organisations moving far and fast should be removed.
Here's how the Technology Group is going to do it.
Principles
The GDS Design principles will continue to guide the Technology Group. They remain as strong today as when they were first written.
I want to highlight a couple of the themes that we need to refocus on as we also evolve our approach.
Designing with data is a vital part of our service design approach. We should make more use of the vast amount of data we have access to, to better inform our work in Technology Group. Doing so will provide a better insight into the technology we have and how it can be used across government.
Reuse is a big part of what we want to achieve, and it's more than just reusing technology. We want people to reuse each other's work, like a well-run discovery phase or pilot project, or a well-designed policy. When someone, somewhere, does something well, we want to find out about it and make sure it's recognised and replicated as widely as possible.
To make change happen we must collaborate. This includes better communication in our supply chain to ensure we reuse platforms and components. It also extends to working with the wider global technology industry where billions of dollars in investment exist and where innovation drives developments in future technology. Innovations that we as government should be exploring and testing.
This also means working with our colleagues in the other areas: commercial, security, programmes and people. This approach is being used to good effect with our revised Technology Code of Practice and we will continue to seek more opportunities to work this way.
We should get better at understanding the context in which our community operates. Government isn't that different from other organisations going through massive organisational and technical changes. We should adopt an attitude of readiness to meet people's raised expectations.
So, with all that in mind, alongside all the great work Technology Group is doing, some of our priorities for the next year or so are:
Our users
Our Director of Architecture, James Stewart, is taking over the Technology Leaders Network to better support the needs of our users, the technology community. A number of topics and events from expanding use of public cloud for government workloads to accelerating data sharing through APIs will be announced in the near future.
There's immense value in working together across government to help each other accelerate transformation and understand new opportunities, and we want to ensure that we support our colleagues across government in doing that.
Our reforms
The Technology Code of Practice is being re-written to make clear what a good approach to technology looks like. It will also be a flexible framework to assess any proposed technology plans. Read more about our plans to update the code.
As well as leading this our Deputy Director of Standards Assurance, Olivia Neal, is also working with departments to make the spend controls process and the digital service standard assessments more focused, more responsive and meet the needs of our users better.
Our programmes
We have two major programmes in the wider Technology Group family: Common Technology Services (CTS) and the Digital Marketplace.
The role of CTS is to directly help government organisations deliver consistent, transparent and simple technology that unlocks the potential of individuals and teams. The team has already published the secure email guidance and the approved Wi-Fi guidance will be available in the near future.
Digital Marketplace grew out of the G-Cloud initiative and together they have had a transformative effect on how government buys technology. Led by Warren Smith, the programme is about to embark on a major new iteration of G-Cloud. There is still time for you to get involved in the consultation.
Our people
While we start with user needs, I believe you have to put colleagues first to get great results. I want everyone in my team to feel valued, trusted and supported, because that's how we'll deliver great things together.
It'll be my job to ensure that my team has everything they need to do their jobs well, and that I'm doing everything I can to remove obstacles to our progress. I'll work closely with my colleagues, with team leaders, and with the GDS board to make sure that GDS continues to be a great place to work and develop a career. Our focus will be to hire the right people, give them the opportunities to develop, and make Technology Group a place they want to stay. You can find out more about joining us.
The future
The Technology Group is in a unique position to enable and accelerate digital transformation across government. We can work with partners in industry and other governments to identify and understand changes in global technology and gain inspiration and ideas for better public services.
Through collaboration and discussions across government we can see and understand what you are having trouble with; we can look at data, spot patterns, and coordinate solutions.
I can't predict the future, but I do know that we won't get there without discussion and input from people at every level.
In that spirit of collaboration, please do comment below.