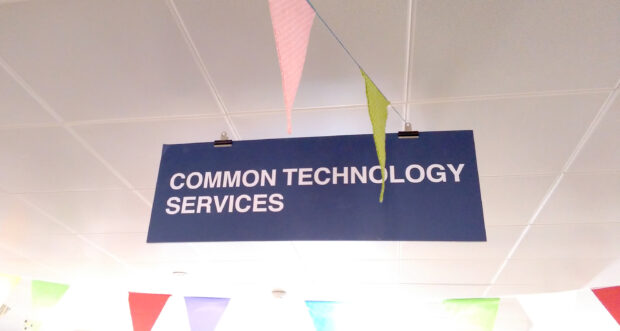 For those who are not familiar with Common Technology Services (CTS), we're part of GDS and we help government departments to provide their staff with cheaper cloud-based solutions and shared technology components. This allows them to work more flexibly and efficiently, whilst ensuring common standards across government. In the last couple of years we've made some huge strides in improving government technology, but it's clear there's still a long way to go.
If you were at Sprint16 back in February, the messages around tech in government were clear: government has a lot of talented people with a passion for providing great services to users. However, they're being held back by their IT systems and kit. You see that echoed in civil service buildings across the country, where outdated operating systems and antiquated kit make everyday activities laborious and frustrating.
Innovating together
We need our people to continue to innovate and collaborate to change government, so it's important that they have the right tools for the job. The next step is to move away from on-site legacy software and systems and replace them with cloud-based collaborative tools which can improve the way that people work.
Better technology can speed up service delivery, enhance data quality, and replace inefficient processes. It will also help bring down the total cost of government, making more resources available for front-line services. But it's not just about the hardware and software. There's a lot of heavy lifting to be done behind the scenes to allow these collaborative tools to work. This is where CTS comes in.
Not just a central view
Building on what GDS has learned over the past few years, we're getting a view of technology across government. We will provide ever greater transparency to the government IT sector, and showcase good practice. We want this shared knowledge to allow government departments to make better informed decisions; we want to reduce the costs and risks of making changes.
We're working with our colleagues throughout the Cabinet Office, including the Crown Commercial Service, to build a cross-government IT contract dashboard, which is now in beta. We'll be blogging about this soon.
We'll expand this dashboard to record the technology, capabilities and change portfolio across government. These will help us understand why departments are requesting money to spend on their IT, the impact of the changes they want to make, and to help prevent them building or buying something which is available elsewhere in government.
We're doing all of this collaboratively with departments, and the idea is to make everything available for all of government.
Shaping future government IT
Our aim is to strengthen our partnerships with departments and the IT industry. We want clearer pricing, a clearer pipeline of common and commodity products and services, more flexible terms and better value for taxpayers.
All public sector organisations can use the Digital Marketplace to find and commission cloud-based services, specialists who can work on digital projects and physical data centre space. The Digital Marketplace is an online service that gives public sector buyers the confidence that they can buy what they need, when they need in a legally compliant way. Where needed, we'll work with departments to design, buy and build user-focused services, and in some cases we'll help define standards for suppliers, and identify those who can deliver against them.
Helping departments
We're talking with departments to understand their technology challenges so we can help them realise the benefits of the Common Technology Solutions we are developing. A secure email blueprint is already available while we are trialling a solution for shared printing and cross-government wi-fi.
We're also providing specific support for major contract exits. IT contracts worth £8bn are ending during this Parliament, with £4.8 bn of these expiring over the next two years. We're going to be working with lots of departments and agencies to help them work out how to exit those contracts, and what to do next as part of a cross-Cabinet Office Strategic Support Team initiative.
At the same time, we'll work with the IT industry to find smart, safe and cost-effective replacements. We want to help departments find the right technology for them; we don't want to prescribe outcomes.
What we want to do is create an approach so compelling that departments will want use it by choice.
Communities of interest
A number of technology communities of interest exist across government. GDS has previously established the Technology Leaders Network, and has been bringing together communities around topics such as frontend development, open source and technical interoperability standards. Some new communities such as 'Office 365' and 'safe and filtered internet' have also been established. Some, such as 'user research personas' are in development and others such as 'end user compute' and 'contract exit' are being planned. They provide the opportunity for like minded people facing similar issues to come together and create the right solutions.
We want to strengthen and expand these communities to join up thinking across government departments and help to break down organisational silos.
Meeting the challenge
This work will not be easy. It may not be be quick. But with collaboration and the combined expertise across all of government, we can make it happen.
You can follow our progress here on the government technology blog and on our common technology services group page.