Over the last 12 months Companies House has been working on the digital transformation of the business and focusing on data-driven decision making.  
This post looks at how we're using data to make decisions about how we develop and continuously improve our services, and also to help us manage the business.
Making sense of the data
Data is at the heart of what Companies House does – our public register has 3.6 million active companies, who have filed over 170 million records, which are searched more than 10 million times per day.
Replacing many pages of complex management information, we have developed a performance dashboard which highlights our KPIs across both our digital services and internal operations. It's accessible to all staff, allowing anyone to get real-time insight into how Companies House is performing.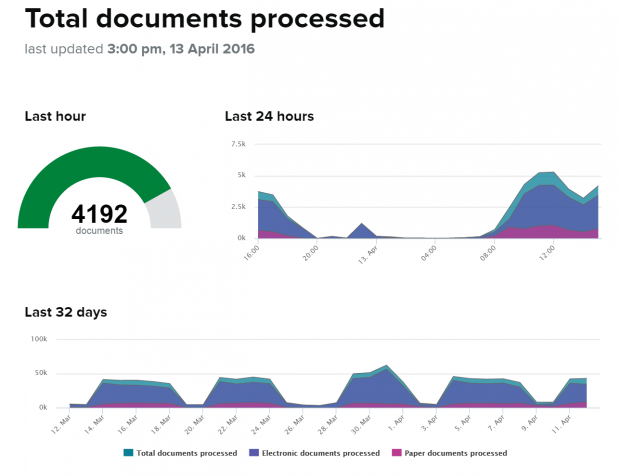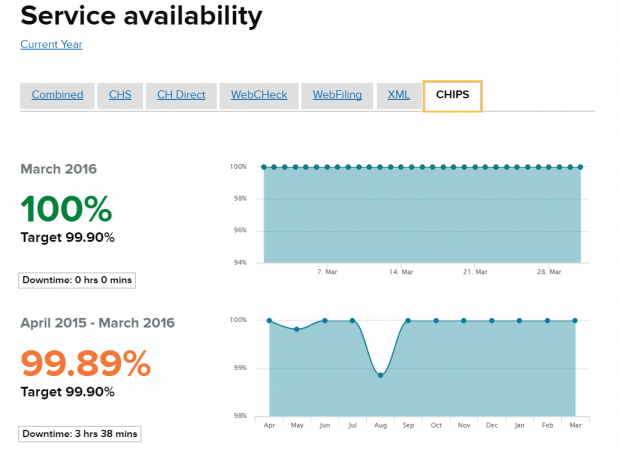 We marry the insights from our dashboards with the qualitative feedback we collect from regular user testing and feedback to better understand the context behind the data.
The Companies House Service (CHS) is a great example of this approach. The launch of this flagship service (available via web and API) was a step-change for Companies House in a number of ways.  It enabled us to provide company information in real time, free of charge. It also facilitated a tangible improvement in our interaction with, and responsiveness to our customers.
Collect, analyse, report
The tracking we've put in place on CHS allows us to build a detailed picture of how customers are arriving at the site and how they use the service. We can also see at a glance the impact any changes we make have on user behaviour and service performance.
Good visualisation of the data helps us to understand the usage of all our services and allows us to identify changes. The dashboard below shows the monthly visits to our three search services. You can see the point in June that CHS (blue) went into public beta.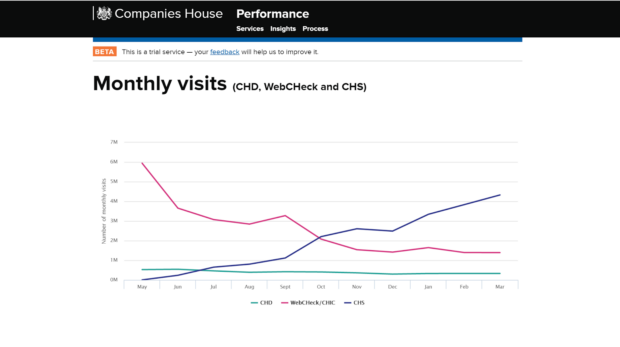 Growth in usage of CHS in July and August 2015 was steady but unspectacular. Our analytics team did some digging and worked out that the emphasis on legacy search services on a GOV.UK page was discouraging people from switching to the beta service.
Recommendations

reinforce that the service is mobile friendly
greater use of social media to encourage our followers to use the service
add link to the service on registered office and filing related pages on GOV.UK
update links from legacy services to CHS where appropriate on GOV.UK
add xml site map to improve ranking of the service in search results
The team published a new analytics dashboard (see image below), and proposed a redesign to a single page on GOV.UK.  The redesign went live in September, leading to a significant acceleration in take-up of the new service and switching from legacy services in September and October.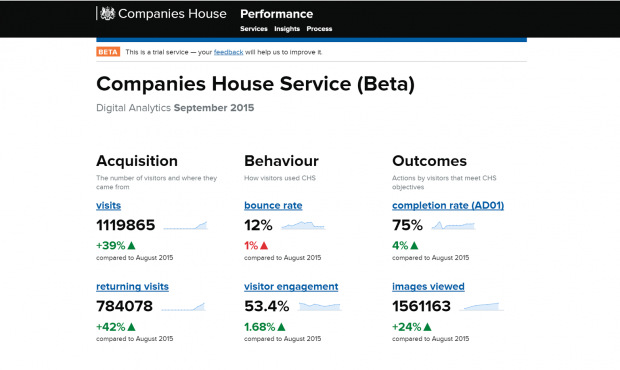 Building insights and dashboards like this is a big part of the work the Digital Services team is doing at Companies House. The analytics team works closely with product managers, through tracking data combined with direct user feedback, to ensure that we have the insight available to inform product development. This helps us prioritise adding features to the service and tweaking design.
Data-driven decision making
By bringing together quantitative analytics data and qualitative customer feedback, we know that we are prioritising the development and delivery of features that bring the biggest benefits to our users. In the 9 months since launch, over 25,000 customers have completed our feedback survey and we've received over 13,000 comments from our customers.
While positive feedback like "CHS is a perfect example of Applied Simplicity" and "this will be an unbeatable, world-class service" keep the team going; it's the constructive feedback that helps complete the picture that the analytics dashboards starts.
For example, our analytics showed a large number of users clicking the back button to perform another search, along with just 6% of customers making use of the search box at the top right of each page in the service. In our user feedback, we could see that not being able to spot the search function from results pages was one of the top three complaints received about the service.
Even though it was obvious to us how to do a second search, it was not clear to users. We prototyped a number of options to make the secondary search function more prominent for users and tested the prototypes with our customer panel via UserZoom, a tool that allows us to perform remote usability testing.
This rapid test and feedback loop identified the prototype that customers found the easiest to use – this is now in development and will be released shortly. We'll continue to ask for feedback on the new design and monitor how our customers use it.
What's next?
The next big step is to take the Companies House Service from beta to live. We'll keep using insight to prioritise new features and improvements, and will continue to bring new features and functionality on to the service - ensuring that the service best meets the needs of our customers.
To best meet this need we are developing our internal dashboards to provide better insight into task completion and our regular feedback mechanisms for user satisfaction. This will enable us to bring all task user journeys up to the highest standard for users and continue to adapt the service as the digital landscape changes.
As always we welcome any feedback on our service and please do keep an eye on the exciting evolution of the Companies House Service.
Gareth Lloyd is the Chief Digital Officer at Companies House