Printing. At best it's something that just happens. At worst it involves visits to the IT helpdesk, long login processes, or simply the hunt for toner. It's not interesting. Or is it?
We can't always be digital-by-default. Printing may not be 'the future', but we need to be pragmatic and solve the problems that exist today. The cost of setting up a network that is secure, which has all the devices required, and is properly maintained can easily sky rocket if people aren't careful.
Add to that an increasing pressure on space and the need to work more flexibly, and you risk creating a mass of unconnected networks, duplication, and complexity. Tackling printing will help save money and make how we use our buildings more efficient.
Here at Common Technology Services (CTS) we have been considering these challenges and are creating a blueprint for printing in collaboration with departments and suppliers.
Error message
At the moment, shared buildings aren't very well integrated.
This can be a hindrance to a modern Civil Service where multidisciplinary teams need to collaborate. From Embassies and High Commissions being shared by UK Trade and Investment (UKTI), Department for International Development (DFID) and the Foreign and Commonwealth Office (FCO) teams across the world, to the Department of Business, Innovation and Skills (BIS) and its partner organisations in London, teams require better connected services for less cost.
Reusing printing networks that already exist is tricky so each organisation deploys their own networks, devices and services. This leads to duplication and potentially extra cost.
Filing information
The Government Property Unit (GPU) has published a strategy to change how civil servants work across the country and to create 'hubs'. These hubs will house multiple organisations, and give civil servants greater flexibility as to where they can work.
This strategy comes with its own challenges. It's not possible to simply put many departments together in one building and expect the existing infrastructure to work for everyone.
CTS has been working with the GPU to build technology for these hubs. The CTS securing government email guidance, like printing, will contribute to a joined up and flexible infrastructure that will help create the environment for a flexible, mobile civil service.
Unclogging the paper jam
We're focusing on finding a solution that is safe, secure, and preferably cloud-based. Future print services must:
meet government users needs

be multi-organisation friendly, using local networks and cloud technology to allow different users to access one print system

ensure network security by using encryption protocols and tools such as  

Transport Layer Security (TLS)

,

Virtual Private Network (VPN)

and

Internet Protocol Security (IPsec)

ensure data security through file encryption

be quick and simple to run and install

minimise the amount of onsite equipment by using externally managed services
As part of the discovery process we looked at the market to see what practices they use. We talked to existing vendors and print software-as-a-service providers and asked them to comment on our approach. The lessons learned informed the next iteration of our model.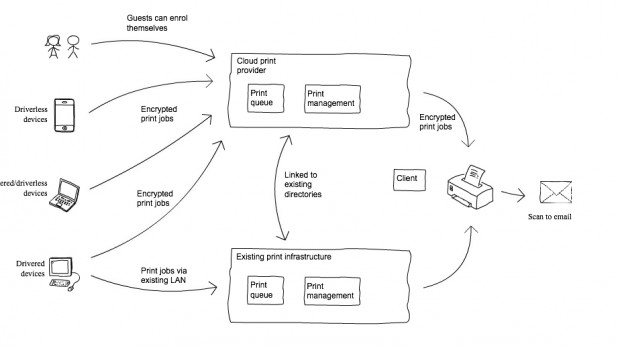 We launched a proof of concept to test our model with Government Digital Service (GDS). We wanted to make sure it worked before we shared it across government.
Our User Research Team has helped us identify user journeys, and test them to see what people prefer. We tested:
printing via email

printing through the web

printing through an app

printing through a driver
Our model allows guests to access the print system when they need it without contacting the local IT administrators.
It also means multiple print networks can be integrated to create a common user experience. Devices and networks can be reduced, as users could access common tools.
A full print run
With tools such as the CTS secure email blueprint and this printing solution, flexible working regardless of building, or even country, is becoming more possible for civil servants.
Forgotten an important document ahead of your meeting? Soon that won't be a problem.
The alpha has had good feedback from the staff here at GDS, and the informal feedback from departments working with us has also been positive.
Initially, we'll be trialling the printing blueprint with the GPU in their hubs and, with the right permissions, some embassies.
We also want to start making this solution more widely available. If any departments are interested in our trial, or in doing one themselves, then please get in touch with the CTS team