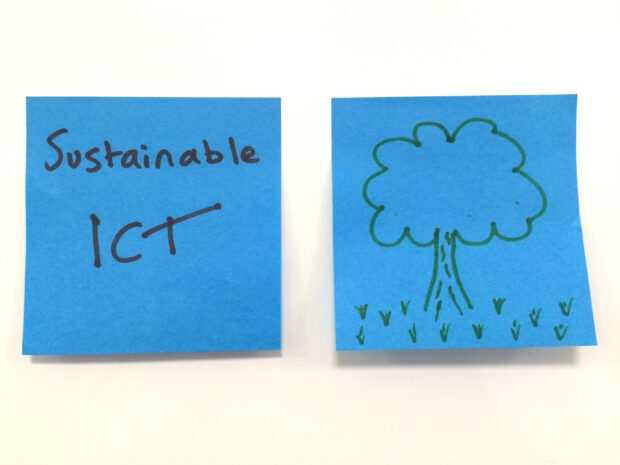 The Greening government ICT strategy was first published in 2011 and set a vision for a "cost effective and energy efficient ICT estate, which is fully exploited, with reduced environmental impacts, to enable new and sustainable ways of working for the public sector". 
The recently published 2015 Greening Government Technology annual report shows departments achieving a number of significant commitments and targets set out in the original 2011 Greening government ICT Strategy.
As Senior Reporting Officer for the Greening ICT Delivery Unit (GDU), I have the opportunity to see the benefits that government departments are gaining from  pursuing green technology initiatives. Both in reducing the sustainability impacts of their ICT services and in reducing the impacts of their business processes and customer services as they move to digital solutions. Here I want to highlight some of the key achievements from our latest report.  
Sustainable ICT
Notably 14 major departments have now reached the target Sustainable ICT Maturity Level of 3 (Practised) and the overall energy consumption per user of our technology has again reduced this year for the 10 departments providing measurements.
The continuing government digital programmes and approaches, including the procurement of commodity services through G-Cloud, the move to Digital Services, and the use of open source software and Agile techniques, have under-pinned this reduction. They are also providing opportunities for departments to reduce paper and improve the quality and timeliness of services and their development.
The new Crown Hosting Service providing access to one of the most energy and cooling efficient data centres in the UK, is enabling departments to lift and shift kit supporting legacy systems that cannot be transitioned to Cloud –hosting arrangements, away from old inefficient centres and shut these down.
New challenges
But there is more to do and new challenges to face as many departments move from current single Supplier contracts to more flexible multi-supplier provisions and new technology delivery models where digital solutions are delivered as services rather than through purchase of assets.
Central programmes for rationalising the government office estate, for more flexibility in the Ways We Work (TW3) and for greening government commitments for reducing use of paper, water, and office space, require greater use of ICT services which in turn requires those services to be more sustainable if we are not to add to government's energy and carbon footprints.
Sharing skills, experience of good and bad practices, and case studies alongside a better understanding of the impacts of new delivery models will be a key challenge for the GDU in the years ahead as we move from implementing the 4 year commitments made in the original strategy to adopt a more focused approach tailored to concentrate on improving weaker areas, preventing increased sustainability impacts and permitting the taking of opportunities to derive wider sustainability gains from digital technologies for government organisations and the UK.
For more information or questions about the annual report please contact the Green ICT Delivery Unit.