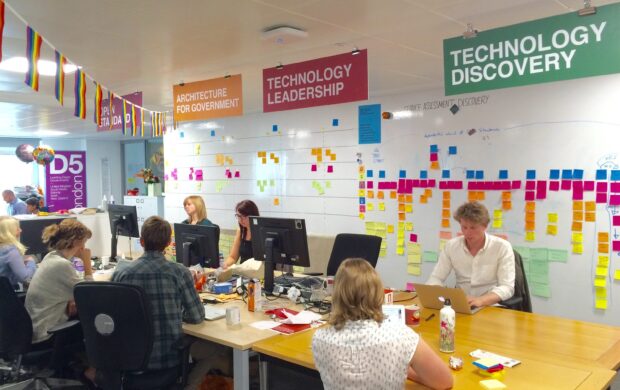 I've been with GDS since its very first days, leading its technology communities, shaping our approach to architecture and development, providing assurance and direction across a number of programmes, and building connections across government. I'm really excited to now be taking on a clearer role developing our approach to technology leadership, open standards and architecture and I want to tell you a bit more about this work.
Empowering technology leadership
Over the last few years new connections have formed across government as new people have joined, more people have got involved in digital transformation, long-time civil servants have connected with new ways of working, and our relationships with suppliers have become more open.  
My focus is to help these connections bring even deeper change, making sure the government has the right technology to meet new challenges.
Our technology community will work more closely with our Digital Leaders and Data Leaders groups, recognising that we focus on different dimensions of the same problems and that the solutions we come up with will invariably require expertise from all three groups.
We've still got a lot of older technology that's expensive to change and we'll work together to move away from that, but we're also now in a position to start focusing more on where we want to be and what new technologies allow us to do.
Within that context we'll work with the Technology Leaders Network to refine and update our strategy, policy and guidance on our core building blocks like hosting, networking and effective use of cloud tools. The goal is to accelerate the move to technologies that respond to users' increased expectations.
Technology Leadership isn't solely about what Chief Technology Officers (CTOs) decide and do. CTOs will need to make some big decisions about our future direction, where we'll invest and what risks to take. To be effective, though, we need to empower technology leaders at all levels of government and that will be a growing emphasis in our work.
We've already run social events and unconferences to connect up architects and developers working in government and we'll build on those to look at a variety of ways to connect up teams and practitioners to help respond to challenging topics.
Using Open Standards
After bringing in the right skills, careful use of Open Standards (standards on how to connect software together or how to structure data to meet our Open Standards Principles) is one of our most powerful tools for taking control of our technology destiny.
Too often we see organisations locked into specific products from specific vendors. The organisations accept the lock-in because the products offer  the only way to integrate with other product's bespoke or proprietary interfaces
We don't just get locked into one product or vendor, we get locked into an ecosystem and the cost of change becomes exponentially greater.
Open Standards break those locks. Truly open standards emerge from processes where domain experts build their understanding of how to break a problem into the right pieces, and then decide the right parts for the solution..
They open up markets by allowing new entrants to develop their products without worrying about complex licensing arrangements, and by making it easier for organisations to adopt different pieces at different times. They allow us to really understand the architectural dependencies in our systems, manage the cost of change, and move faster.
Over the past few years we've used the Open Standards Principles to identify and adopt a number of standards in government. We're now engaging a broader community in that work to help teams across government understand the role of standards, identify appropriate standards, engage in the development of standards in a well-coordinated way, and where necessary get agreement for standards across government.
Dan Appelquist has been helping lead on this work over the past few months building communities around technical and data standards within government.
Taking a fresh look at problems
We often take incremental approaches to changing technologies. This means it's tough to dedicate the time to considering problems in genuinely different ways.
Our work with the Technology Leaders Network will sometimes identify areas where a loose network of government teams won't be able to make the progress we need and instead a small, focused-team is needed to explore, prototype and find new approaches. This is not so much an innovation team approach, but more some space to take a fresh look at a problem.
Sometimes the focus will be giving a little extra support to unblock projects people are already doing, providing a hub for teams assembled across government, or helping with some commercial arrangements. It'll depend on the particular problem. We've started small, supporting work on improving the security of service.gov.uk but will be looking broader soon.
Contributing to open source projects
Alongside Open Standards, the past few years have seen us transform our relationship with open source software. The Service Standard requires new code to be released under open licenses, and many contributions have been made to open source projects.
We now want to build on that work with a more concerted approach to open source. This approach will involve building collaboration and reuse internally and making higher impact contributions to the wider open source community. There's an enthusiastic and committed group of developers across government ready to work on this and we're currently recruiting someone to lead and facilitate that.
Government as a network
To accelerate our progress we need to find ways to work across organisational boundaries, since these boundaries almost always involve trade-offs. Thinking of ourselves more as a network and less as a hierarchy is vital to ensure we connect the right people and expertise, understand where the real problems lie  and move ahead together.
We'll be writing to technology leaders and other members of our leadership networks over the next few weeks with more information on how to get involved with this approach. We'll also blog regularly about the work as it develops in order to make sure that it's as open and accessible as possible.