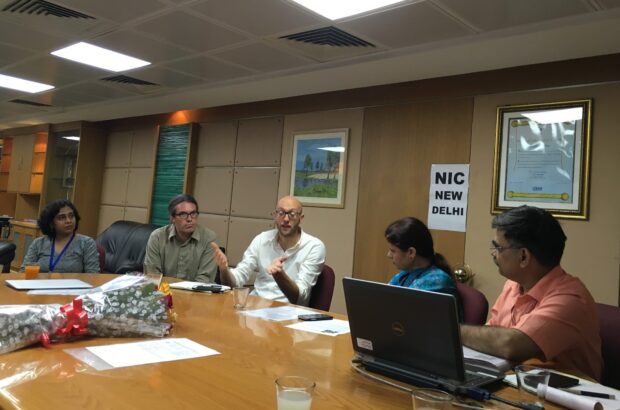 In November 2015, the UK and India signed a Memorandum of Understanding (MoU) promoting bilateral cooperation in - amongst other areas - the transformation of digital services.
Since this MoU was signed, the UK and India have continued to share experiences and knowledge on digital service transformation, with GDS contributing our key guidance such as the Technology Code of Practice and the Government Service Design Manual.
In September, building upon this relationship, we went to India to identify potential areas for future cooperation and see for ourselves how the Indian government is transforming online access to services for citizens.
The visit
Over three days, representatives from the Technology Group at GDS, including myself, James Stewart and Warren Smith, attended meetings with senior Government of India officials in Delhi and Senior Government of Karnataka officials in Bangalore: 'India's Tech Capital'.
We gained a first-hand understanding of India's work on digital services and were fortunate to be introduced to a number of impressive programmes such as India's biometric identity programme and the Government of Karnataka MobileOne project.
There were a number of contrasts and similarities when compared to our own experience. The scale of the population and the challenge of universal access are strikingly different, but we also saw how India faces just the same challenges of federated organisational structures and access to digital skills.
We also took this opportunity to present and share the work that GDS has done in transforming digital services and reforming technology and procurement in government, focussing specifically on analytics, user-centricity and digital outreach.
The Government of India were interested in GDS's experiences of user-centred and data-driven design of better services, both public-facing and internal to government, for example the Digital Marketplace.
The benefits
We gained a strong understanding of India's work on digital services and their approach to software building, open data and early work on public and private cloud adoption. It was interesting to meet teams from the National Informatics Centre who are delivering much of the technology supporting services as an internal function, with far less reliance on service providers than you generally find in the UK.
Next steps
Many areas of joint interest were identified during the visit. In order to give us a focus and to develop the relationships we agreed to focus on one or two specific services that the Indian government is looking to redesign, to collaborate on parts of the discovery phase and to find ways to open up some of the training we offer via the Digital Academy for people involved in the work.
Over the coming weeks and months, we will be working closely with the Government of India and the British High Commission in India to build on these interests and channel our ongoing discussions into exciting and valuable projects. We'll be sure to blog about this work.