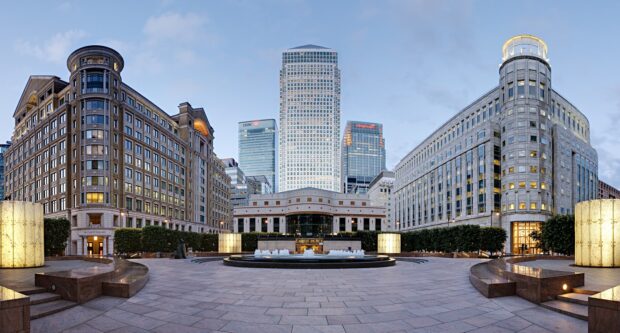 It is a government goal to use our buildings in an efficient way. Using shared working spaces, and using cloud technology in these spaces can save money, improve collaboration and make sure staff have what they need to work smarter.
In Common Technology Services (CTS), we've been working together with the Government Property Unit (GPU), part of the Cabinet Office, to provide the right technology to make sharing buildings easier.
Changing how government works
In previous posts we've talked about the government's renewal of its commitment to the Cloud First policy, the security and efficiency of cloud services and their benefits. There is another reason why using cloud services makes sense, and that is for multiple-occupancy buildings or hubs.
The GPU is helping to transform the Civil Service by providing staff with fit-for-purpose office spaces. The GPU runs the Government Hubs Programme, which is making innovations to the central government's estate by accommodating staff in shared regional hubs and supporting office estates.
The key benefit of the Government hubs are their strategic locations with great public transport connectivity and local amenities for staff. Flexible working will be encouraged with collaboration zones where people in cross-department projects can sit and work together, and there will be quiet zones and private zones for work done by government staff that is confidential or sensitive. Cloud-based technology will free staff from their desks to work in the zones best suited to getting their job done.
The Government Hubs Programme will reduce the government estate from around 800 to 200 buildings by 2023, saving approximately £2.4bn over ten years. These spaces will support new ways of working and allow staff to work from a variety of locations, including hubs.
Technology
Using the cloud allows organisations to concentrate on their core business. By following the cloud first policy, organisations only pay a service provider for what infrastructure and staffing they use, so can benefit from the provider's economy of scale.
CTS have designed a technology approach that brings the principles of cloud services to government hubs. The basic technology infrastructure of wifi, printing or WAN is not specific to a particular type of business activity so can be purchased as a commodity. A single provider can run a single shared infrastructure for all users in the building, then tenant organisations can then run individual services on top for their own users. This allows us to meet all departments' needs with a single shared infrastructure.
Which shared services can you expect?
Shared wifi
Everyone in a shared space will be using the shared wifi. They will be able to access the internet or their own network as appropriate.
Shared Wide Area Network (WAN)
Organisations will either configure their systems to their Virtual Private Network (VPN) home, or install a gateway to create a network level VPN and decide what traffic can go straight out to cloud providers on the internet.
Shared printing
For general office use, users from any organisation can print to a single shared system. Where staff need to print as part of a constant workflow they will have one dedicated to that team.
Shared meeting rooms & booking system
Meeting room time in shared areas will be available to all tenants. A booking system will keep order to ensure sure allocation is fair.
CTS have produced guidance and solutions on these topics. The main ones so far are:
You can see more guidance on the CTS products page.
What does this mean?
As we start working in hubs and shared office space as a common working practice the goal is for staff to be able to access everything in a quick and simple way.
By departments using the CTS guidance they can decouple the network and other basic IT needs from the specific security and line of business requirements. Technology in offices can be set up securely and safely using multi-tenant principles of the cloud at far less cost. Working in this way is made easier with cloud services and will open up opportunities for new, more flexible ways of working.
We're always looking for more people to help us develop our common technology. If you're interested in being involved please contact us.
You can sign up now for email updates from the Government Technology blog or subscribe to the feed.