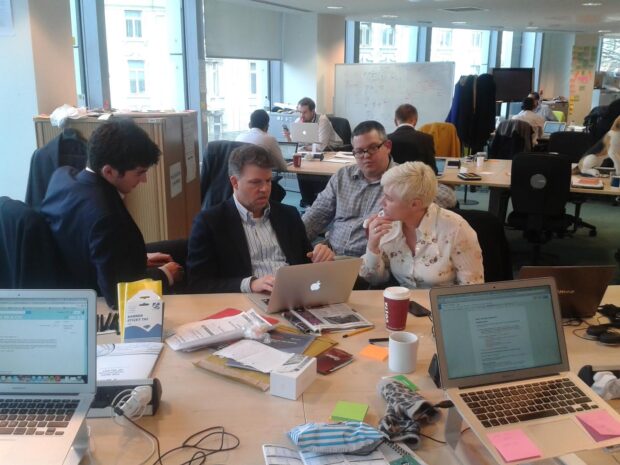 The Office of the Chief Technology Officer is part of the Government Digital Service.  We are responsible for equipping government with the right technology to deliver great digital services.
To do this, we are:
leading on technology in government
building great common technology services
making sure we have the right people with the right skills
helping departments deliver the right technology successfully
Leading on technology in government
We're taking the lead in technology across government.  Not to tell people what to do, but to help them do the right thing, and to help them build expert teams of their own.
We've replaced the previous, overly-complex IT governance for government with a simpler, clearer operating model.
We've brought together the Technology Leaders Network; a group of senior representatives from all departments.  The network meets regularly to agree and set standards for architecture, security, software and services - and  collectively leads the technology agenda for the government.
We believe in openness everywhere. We share our work, our methods, our code and our data. And we're committed to open standards.  Why do they matter?  Open standards create competition - they widen our choices and lower our costs. By being open, we level the playing field for all sorts of technologies and all sorts of suppliers. We're no longer locked in to one particular proprietary solution from one particular company. That means we can be more flexible in the way we work, so services can meet people's changing needs.
Competition is the basis for everything we do.  That, paired with a group of empowered technology leaders, is the dynamic behind the changes being delivered to government technology.
Building great common technology services for all
Technology used to be something each department and agency had to deal with on their own. Every department built its own email system, its own bookings system, and commissioned its own separate website. We were needlessly duplicating work and purchasing the same thing in different places.
Now, we're creating common technology services and platforms (like hosting, or networks, or directory services) for use across the whole civil service. These services and platforms will be competitively priced, reliable, and easy to change or replace. They will help cut down on duplication, and free up departmental staff so they can concentrate on doing more important work.
In recent years, personal computers and mobile devices have plummeted in price. Most civil servants have better computers at home, or in their pockets, than they do on their desks.
We're fixing that too.
We believe civil servants should be given the technology they need, because meeting user needs is at the heart of what we do. Civil servants are users too. We will help departments understand those needs, then plan and purchase the best technology that meets each need. We will help them design flexible, open technology that does the job well.
We believe in showing not telling, so we're currently running programmes to replace the technology in Cabinet Office, the Department of Culture, Media and Sport and UK Financial Investments. Feedback to date has been positive.
Making sure we have the right people with the right skills
We also believe that most of the time, having a multidisciplinary team working in-house is better than outsourcing that work elsewhere. We're working closely with departments to help them pinpoint the skills they already have on their team, and fill the gaps with specialist new recruits where necessary.
Through the Recruitment Hub, we're helping find senior digital and technology professionals for important vacant leadership roles.  We've helped fill 46 posts already.
And for people at the start of their career, we manage the Technology in Business (TiB) Fast Stream. This is a digital and technology-focused programme for high achieving graduates and in-service staff.  We're currently looking at how we can improve the scheme.
Developing - and retaining - the staff that we have is crucial for the success of our digital services.  So, we are currently developing effective learning and development programmes that meet our departmental users' needs.
Helping departments deliver the right technology successfully
Big, long-term IT contracts are too slow and cumbersome for today's fast-moving technology. By the time projects like that are finished, the technology they were built with is out of date. We can't afford to do that in government. So we're encouraging departments to use shorter, lower-cost, more flexible contracts. We're helping departments make the best decisions about technology and get the best value for money for the taxpayer.
We want the UK government to be recognised as a world leader in using digital technology.  To achieve this, we're making a case for change across Whitehall, and removing obstacles that prevent it from happening.  Much of this involves helping departments exit expensive old-style contracts and choose more flexible services that better meet user needs.
We're equipping government with the right technology to deliver great digital services.
We'll be sharing more of our news, stories and approach on this blog - we'd also appreciate your feedback and ideas. This is about getting it right for the civil service.
Follow Alex on Twitter, and don't forget to sign up for email alerts from the Government Technology blog.