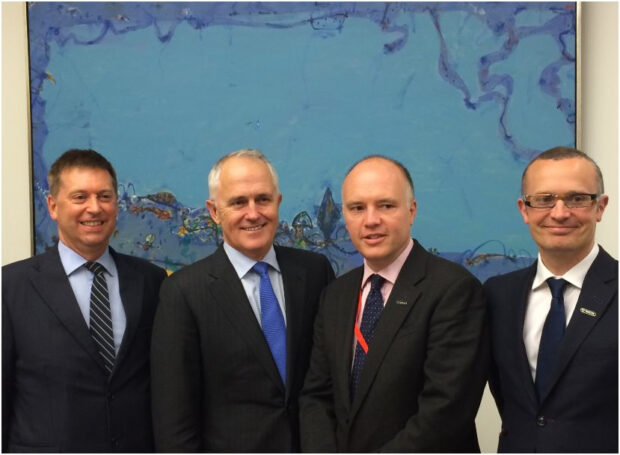 Liam Maxwell, HM Government Chief Technology Officer and Ben Terrett, Director of Design at GDS, recently travelled to Canberra at the invitation of the Australian Minister for Communications, Malcolm Turnbull.  Their mission?  To brief members of the Australian Cabinet about the UK government's approach to digital government.
It's always great to be asked to share what we've learned about building a digital government.  But talking with the Australian Federal government has helped us think differently about our work by viewing it through the prism of a country very different to ours.  Talking honestly with our counterparts there has been a terrific reminder that working in the open benefits everyone.
I want to start by highlighting 3 big differences between Australia and the UK which can't help but affect the way we deliver digital services.
The first is that Australia is on a fundamentally different economic cycle, fuelled by a boom in mining, and bolstered by tight integration with its Pacific Rim neighbours.
The second is that access to digital has been a much hotter topic in Australia than the UK. The National Broadband Network became a national issue in the run up to the 2013 election, and is still controversial in parliament.
Third, and perhaps most significant, is that word: Federal. In Australia, more of the government's "retail" activity is devolved to the 8 states and territories. Drivers' licences are one example: there are 8 different organisations doing the work that we handle centrally in the UK.
In Australia, devolution of service delivery, whether online or offline, is widespread. The natural result of that is that government departments have become much more autonomous in their approaches to technology and service delivery.
Perhaps that's why our use of a Reform team made a big impression. The big picture of how we spend money on technology across the whole of government has let us rationalise, save money, and use (or prepare to use) cloud-based services which cost less.
The use of a common platform for government technology services – from networking to desktop and collaboration – is a great opportunity for both governments. Our approach, with much closer peer review of major technology spending, found a good deal of support on "the hill", as Parliament House in Canberra is called.
And digital?
Our colleagues in Australia were absolutely clear: digital is not only about technology, but also identity, user research, service design and writing clearly. These points resonated loudly with the senior officials we met.
That last point – writing clearly – is worth emphasising. Clear language is a linchpin of GOV.UK, and the style guide we showed became a must-have link for ministers. It's clearly something they feel strongly about.
Awareness also struck a chord – awareness through data. Our performance platform is one of our most powerful tools. It gives us the information to design and build services at the right scale. It gives service managers the data to see what works, and make design decisions accordingly. We can see if a transaction is failing, if user satisfaction is changing or if we've made things too complex.
In 2011 we only had access to performance data for a few services. Today we have 18 detailed service dashboards, but that number will continue to grow because the platform is the keystone of our digital service provision.
But what made the largest impression? GOV.UK. A single platform designed to mind the needs of users. This video proved the clearest description of our approach. How do we meet the needs of the user? That's the most important question of all.
What became clear to us was how useful and effective it had been for GDS to be the digital centre of government. This was one of the core recommendations of Martha Lane Fox's report in 2010, and perhaps the most specific.
We're looking forward to continuing the conversation with the Australian government.
Follow Liam on Twitter.