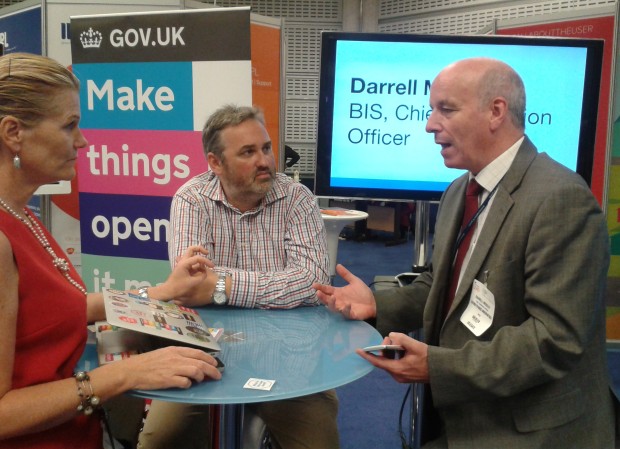 We asked Darrell Midgley, Director of Information and Technology and Chief Technology Officer at the Department for Business Innovation and Skills (BIS), to tell us about the changing technology in his Department.
Digital and Technology are enablers of connecting people to skills and resources so that they can prosper and the UK economy can grow. We can embrace them by being digitally focussed when developing policy; we can use common technologies and platforms to deliver better services and to be more efficient, and we can use them to work more closely with our partners.
To support this we have brought the Digital and Technology agendas together under Howard Orme, Director General, Finance and Commercial.  I am now the department's technology lead (CTO) and Tim Knighton is the Digital lead (CDO). Tim and his team are coordinating a three year digital transformation roadmap that exploits exemplar projects and leverages digital knowledge and experience more effectively across the department.
To transform our approach to technology along with our partners, I am establishing the Departmental Technology Leaders' Network to provide direction on our technology strategy and to align more closely with the Government Digital Service's technology operating model. I want to work with the Leaders' Network to create more efficient frameworks, processes and solutions for digital delivery that exploit the strengths of our partners to the full.
Our "BIS 2020" strategy is to:
• increase access - work together to make information secure, available and appropriate for all requirements of the growth objective;
• standardise - our ICT provision with maximum use of shared services to meet the needs of partners and comply with GDS's Technology Operating Model;
• be digital by default - migrate business to a service model with cloud-based processes and solutions and virtualised infrastructure as a service; and
• create Centres of Excellence - recognised for equipping and supporting our people with the information tools necessary to deliver the growth objective.
Like others in the public and private sector we realise that having the right skills will be key to delivering BIS 2020.  So we are working with our partners and GDS to ensure that we share knowledge, make the best of expertise that we have, identify the skills we need and develop new in-house talent. I am investigating the creation of a dedicated core team of technology specialists from within with an earmarked budget to fund their work and, where necessary, backfill their posts. This team will be responsible for managing implementation of BIS 2020.
Finally, we need to raise departmental awareness of our contribution to business delivery by being much more vocal in celebrating our Digital & Technology successes. The new Evolve tower-based IT platform in core BIS is just one example where we forecast making a saving of more than 50% on current costs in 2014/15 which sets an excellent benchmark for scalable ICT savings across the department. In October 2014 the Permanent Secretary will host the inaugural BIS Digital & Technology awards, in recognition of the significant contribution ICT makes to achieving BIS's growth objective which deserves to be celebrated.