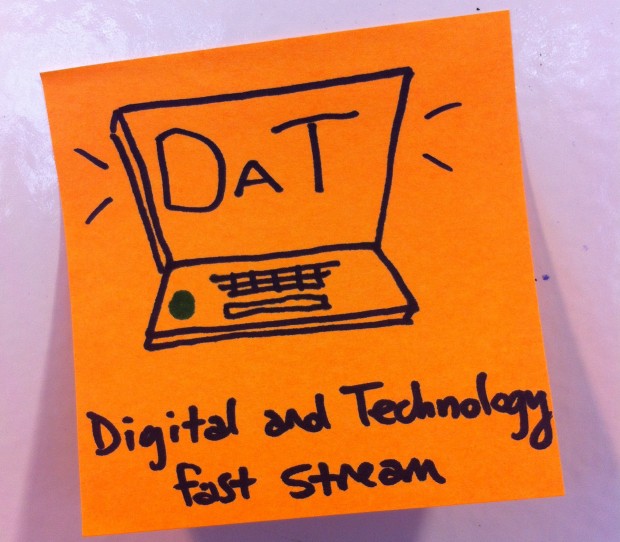 Over the past few months we have been taking a look at the Technology in Business fast stream with two goals in mind:  to understand it in more detail by talking to participants on and around the scheme and to figure out how we can make it even better.
We're now ready to tell you about some of the improvements we've made.
It is now called the Digital and Technology fast stream (DaT), which replaces the old Technology in Business fast stream. It's a name that better reflects the vital role of digital technology in government.
But the improvements are more than cosmetic -  they also address the user needs that were uncovered:  the Digital and Technology fast stream now offers clearer development paths and consistent terms, pay and experience for all fast streamers.
Fast streamers will gain valuable technical experience across a number of development paths including:
strategy and policy
user research
operations
delivery
product design
content analysis
software engineering
commercial management
And the on-the-job learning will be supplemented by a technical curriculum that includes agile ways of working and coding.
The programme design has also been redefined:
The scheme has been shortened to three years (from four)
Years one and two are about breadth. Fast streamers will be encouraged to try different roles in different departments to develop a variety of digital, technology, operational and delivery skills
Year three is about depth. Fast streamers will choose a specialism, and work in one government Department to define their role.  After this stage the majority of Digital and Technology fast streamers can expect to move into a Department to start the next phase of their career, working towards roles along a defined career path
We are working together across government to implement these changes and will  continue to introduce improvements along the way. The Digital and Technology fast stream offers the opportunity to work on the largest transformation taking place in government today - providing simpler, clearer and faster government information and services built around user needs, not the needs of government.
If you are interested in hearing more or finding out how to apply to the new scheme please get in touch with our team at Civil Service fast stream.
Follow Sana on Twitter and don't forget to sign up to the Government Technology blog.