"Do you have wifi?"
It's one of the first questions many of us ask on entering a new building, but in government buildings the answer can often be complicated and rooted in security more than user needs.
We're working on a service for public sector buildings which allows civil servants, contractors, and guests to sign in to wifi automatically, even in buildings they've never been to before.
GovWifi is an authentication service running in the cloud that makes all the various participating wifi networks appear as one. Each user is protected with unique credentials and encryption keys to log in to the wifi and access the internet.
Once logged in they can access their organisation's resources like they would at home using a virtual private network (VPN) or similar. Users' devices are isolated from each other to stop the horizontal spread of malware and protect secure devices from less secure ones.
The network also identifies itself in a way that can't be spoofed, adding to these safety measures that provide protection from potential attackers.
While the service needs to protect users against the security risks of wifi, it also has to make sense to anybody, staff and visitors, in buildings across all the main departments and potentially other public sector buildings like Job Centres and Passport Offices.
What's in a name?
Just like on GOV.UK Verify, our users need to understand that our service is a bit different. People aren't used to wifi for guests being secure, and they certainly aren't used to secure wifi automatically signing in across government. So the name of the service becomes really important.
We've been running a prototype service, user.wifi, but our research has shown that users thought that the name was a URL, and didn't trust it because it didn't sound like it was run by government.
So, we realised we needed a name that was easy to tell people about. Most importantly, it needed to sound:
secure
official
like it was for anybody in a government building
Those first few requirements are relatively easy to do, the difficult bit is finding something that works in all types of government buildings.
Our research quickly showed us why this was a problem. People have a mental model of parts of government that are quite separate. For example, many people don't associate the police directly with the Home Office (HO) even though they are both part of government. Even though they know they're both funded by government, the perception is that the police are part of the public sector, whereas HO is part of the civil service. (HO and the Civil Service being much lesser known.)
It's a very rough approximation, and lots of people have different perceptions based on how much they know about how government works, but the below diagram illustrates how people in our project perceived the different parts of government.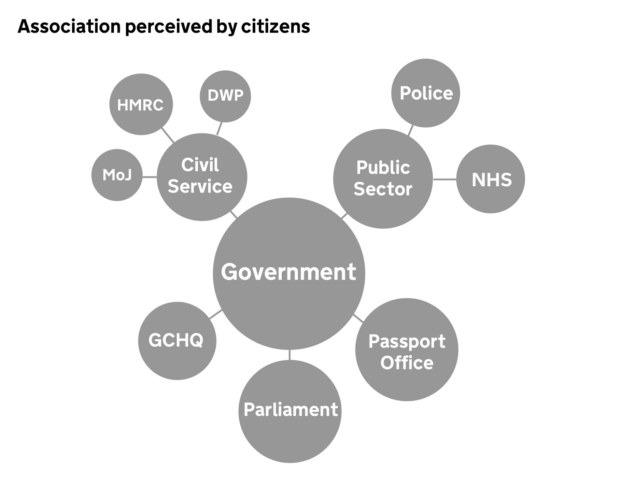 What did users think?
We ran a short discovery to test names that we felt people could identify with as being secure, official, and for them to use.
UKWifi
GovSecure
GovWifi
GetOnline
HMGovernment
These names were tested on a poster so that participants could see the context in which the information about the wifi would be provided. We also included user.wifi in the mix so we could test it with the same users.
The discovery process involved conducting face to face interviews with people at the Government Digital Service (GDS), Ministry of Justice (MOJ), Department for Business, Energy, and Industry Strategy (BEIS), and the Department for Work and Pensions (DWP). We ensured we interviewed all potential users of the service (civil servants, contractors, and department visitors) so that we could understand what elements of a name worked, and where the use of a name was effective with more than one user group.
In addition to the face-to-face interviews, we conducted a short survey with staff at GDS to measure each of the wifi names tested against the key attributes:
Feeling secure
Feeling official
Being for you
The results from the survey confirmed that only one of the names worked across all types of users. Combining the survey results with the results from the face-to-face interviews enabled us to be confident in our final choice.
Finalising the name
Overall, GovWifi tested the best. Participants associated it with being secure, official and being for them to use in a government building, irrespective of whether they are a civil servant, a contractor, or a visitor.
GovWifi feels official and secure. It looks like the sort of thing that would exist - government visitor, MOJ

Sounds official. It would be one I'd click on - civil servant, DWP
The other names tested got a mixed response, with GovSecure testing well for feeling secure and being official, but failing to suggest that it was for everyone in a government building to use. HMGovernment also tested well for feeling secure, but equally felt scary for participants as they felt the name suggested that it could be monitored.
User.wifi continued to test poorly with participants, as did UKWifi (sounding too commercial) and GetOnline (feeling insecure). Every participant said they would not use a wifi with these names.
Throughout the Discovery it was clear that the inclusion of the HM Government crest, and the wifi sign with a shield on the poster were also important for instilling confidence in the service and providing a sense of officialness and security.

What's next?
GovWifi will continue to be tested with end users across government as well as staff responsible for implementing and managing the service. We'll also do more research to make sure GovWifi meets the needs of the wider public sector, such as local government, health and social care.
Early next year (2017) you should start to see GovWifi become available in government buildings. If you work in a government IT department responsible for end user devices you can roll out a wifi profile now in preparation for getting your users onto GovWifi. Please try it out and let us know what you think.