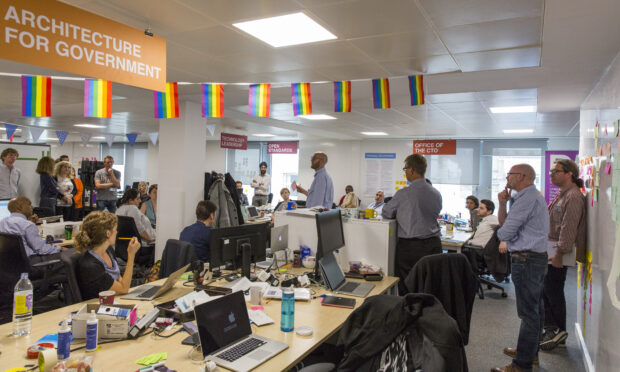 Last week I said a fond farewell to GDS as my time as the Government's Chief Technology Office came to an end. As I announced in October I am leaving GDS after four hugely rewarding years. It was also my last week (for now at least) as a civil servant. But it certainly won't be my last week serving civic society in all its forms.
One of the many privileges of working at the centre of government is the view and perspective it provides across the whole of the public sector. My experiences have reinforced, for me, the importance of collaboration beyond the organisational borders of government, those so-called departmental silos.
While sad to leave the civil service I am excited by the prospect of supporting its mission in new ways: helping government harness the power of technology and the internet in the service of our country and its citizens and businesses.
That help has taken many forms over the last four years but for me they come down to two key principles.
Giving teams permission and confidence
Government is full of amazingly skilled people but it is also beset with many constraints. Some real and some perceived. Breaking down constraints and barriers so those people can deliver on the potential of technology has been a core part of mine and our teams work.
This way of thinking was behind our dogged pursuit of the Cabinet Office's own technology refresh programme back in 2013 with the aim for the project to run as an exemplar of corporate IT: fit for a government with ambition to be of the internet not just on it.
We had great support from Richard Heaton, then Permanent Secretary, who saw this as an opportunity to accelerate his vision for the Cabinet Office's departmental transformation. Users got IT they actually loved using, that was secure and was 40% cheaper than the old stuff.
But it was always supposed to just be the start.
We knew that if we got the Cabinet Office transformation right, organisations across government would want the same tech. And the idea of a common IT design and delivery service took shape under the project name of 'Beagle'. It would adopt the user-centric approach used in the Cabinet Office Transformation Team. The project became Common Technology Services (CTS). Today CTS is going from strength to strength and is now working right across government.
Relentless collaboration
Large organisations invariably suffer from silos. Government is no exception. The work I'm most proud of as CTO has always been the product of collaboration far beyond my team and GDS. And none more so than our work with Security and Commercial colleagues.
Our jointly published guidance on End User Device security in 2013 has continued to be iterated and still forms the basis for recently launched national advice from the new National Cyber Security Centre. More importantly, this work kickstarted a long period of close collaboration between GDS and the many parts of the security community.
And collaboration with our colleagues in the Commercial Function played a critical factor in the successful relaunch of the Technology Code of Practice. In this case, the collaboration extended through to the technology industry to ensure that we designed a policy that works for all parts of the community.
Onwards
Looking ahead it is great to see the changes taking place at GDS that will reinforce the commitment to collaboration and breaking down of silos, including internal silos, with the move to integrate more activity across the previously distinct digital, data and technology areas.
I send my GDS colleagues the very best wishes for these changes and all their work to come. And to all those that I've worked with and who've supported me, I want to say thank you. And if you are reading this from outside the public sector then I say come and join them. You won't regret it.
To stay up to date with news from the team, you can sign up to alerts from the Government Technology blog. Andy tweets from @andyjamesbeale.