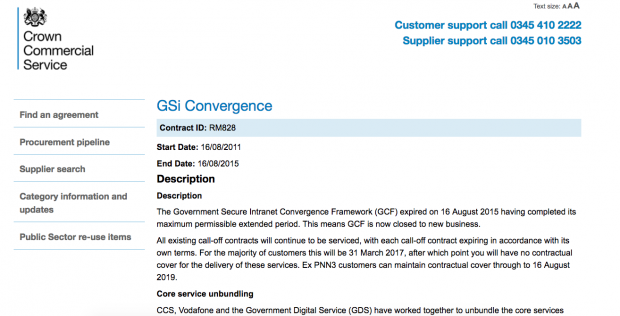 There's been a lot happening since my blogpost last September about the GSi Convergence Framework (GCF) contract. If you're currently one of the near 600 public sector organisations that currently use this contract for important IT services this update has some important information for you and your organisation.
We'll be writing to all GCF customers about what's happening, but I wanted to make sure that we keep all customers updated on the plans as contracts are set to come to an end very soon.
Your GCF core services
Firstly, from April 2017, Vodafone will only sell its core services as a bundled set. The core services are too interdependent for unbundling to make financial sense for Vodafone or government, particularly following government's renewed commitment to Cloud First. As a GCF customer, you will need to continue to buy all the core services as a bundle: Vodafone DNS, Mail Relay and Peer-to-Peer, until you stop using all these services.
CCS and GDS are working closely with Vodafone, applying current government network policies and guidance, so that we can reduce and eventually remove the need for these legacy core services. We'll be working with principal government departments to do this, but we'll need your help and we'll contact you soon about this. Vodafone will support these legacy services until March 2019.
Commercial options
From April 2017, the following services will be available via the following commercial routes:
For customers who take PSN connectivity from Vodafone, we expect that Vodafone will offer the legacy core services as a bundled package alongside connectivity through the RM1045 Network Service Lot 1.
For customers who take PSN connectivity from other suppliers, we expect that Vodafone will offer the legacy core services as a bundled package through G-Cloud 9.
G-Cloud 9 will available from May 2017. Customers waiting for G-Cloud 9 will not have their services terminated. Instead, they'll be covered by an implied contract with Vodafone during the gap following the expiry of their GCF contract. This is a temporary measure and these customers should use G-Cloud 9 as soon as it becomes available. You can sign up for the latest updates on the Digital Marketplace blog.
Although Vodafone is still finalising the details of these offers, we do know they will be available as direct award for expediency. We are also working with Vodafone to improve the existing commercial terms. We understand that this information is important for your organisation and we will release further details as soon as they are available to us.
Register for the new UK public sector DNS services
The route away from the legacy core services will be different for each organisation, as it will involve different schedules within the overall time frame of completion by March 2019.
However, as a first-step, it is important that you pre-register to use the National Cyber Security Centre's new UK public sector DNS services, so that you're ready to use them when they go live.
Registration for the UK public sector DNS services involves four steps:
We send a personalised invitation to a lead technical contact in your organisation.
They sign into to the online support tool and confirm your DNS details.
We send an authorisation request to a lead commercial contact in your organisation.
You can begin using the services once we've received authorisation from your commercial contact, and the services are live.
The UK public sector DNS services consists of two elements: a PSN DNS and an internet DNS. If your organisation has direct connections with the internet as well as connections with the PSN, you can register for both at the same time.
the PSN DNS lets you manage your PSN domains. This includes their visibility to users on the PSN and on the internet. It protects your PSN-connected users from accessing known malicious sites. The service consists of an authoritative nameserver for PSN and internet users, and a resolver for PSN users
the internet DNS protects your internet-connected users from accessing known malicious sites. This is a resolver service only, so you can use it without needing to move your existing internet DNS records
We won't make the PSN DNS live until we've completed a smooth migration of data from the legacy DNS, which will be later than we originally planned. We're working with Vodafone to make sure we have all the DNS data we need and that the data is simplified to give consistent behaviour for all PSN customers, whichever part of PSN they're on.
Next steps
We'll continue to work with Vodafone and GDS to make progress with the details that still need to be finalised. We'll also keep you up to date on the go-live dates for each of these services as soon as we can. If you have any questions about any of this, contact CCS, your usual Vodafone point-of-contact or the GDS team.
Tony Brown is the Category Lead at Crown Commercial Service (CCS)
You can sign up now for email updates from the Government Technology blog or subscribe to the feed.