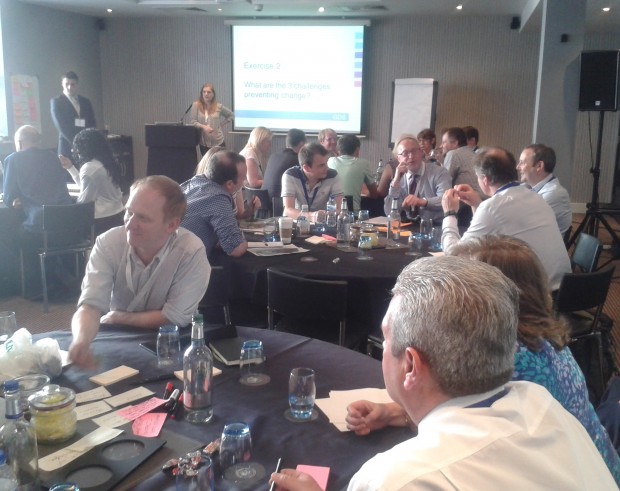 Chris Parkinson, an Incapacity Benefit Reassessment Decision Maker and Digital Champion Site Lead at the Burnley Benefit Centre, took part in our second Fixing Civil Service Technology Workshop in Manchester last week. Here's what he thought about it.
I am a Digital Champion working at Burnley Benefit Centre making benefit decisions for the majority of my day. Doing this job and dealing with Departmental computer systems every day has left me feeling like I am fighting the tide when it comes to improving the technology we use.  Then I read about this GDS (Government Digital Service) event on Sir Bob's Blog and jumped at the opportunity to go on a workshop with people from across the civil service to discuss why the technology we have hinders our work.
With talks from Jonathan Ayre, Chief Technology Officer for the DWP, and Liam Maxwell, Chief Technology Officer for Government, covering topics such as what the current restrictions are, the state of technology we are currently using and where technology is going in the future, the workshop left me feeling that change is possible and that it is on the horizon.
They are looking at innovations in working collaboratively, such as the ability to have different people from across the country all working together on the same document or spreadsheet, or being face-to-face with colleagues across different centres without leaving the comfort of your desk.  This focus on better technology will be centred around what the user requires from our computer systems, taking our views and experience into account right from the very start.  It was apparent from the workshop that there are a lot of very talented people working for the Department and for GDS, and that they are intent on bringing our computer systems into the 21st Century along with putting the user at the very heart of development.
What was clear was that the next few years will bring changes to how we work and the technology we use.  There are barriers to overcome, challenges to face and myths to dispel. But hearing these people speak has left me with the confidence that the technology will get better and that we will have the opportunity to influence the decisions that affect us.
I encourage you to attend one of these events if you get the opportunity, not just for the chance to put your point across, but to hear what is coming in the future.
Did you attend this Workshop?  If so, what did you think of it?  You can also read Elizabeth Atkins' blog on the first workshop here.