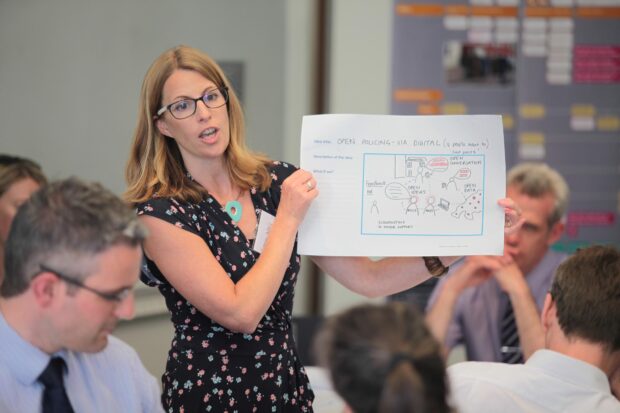 Cat Drew, Head of Police Digitisation Delivery in the Police Science and Technology Unit at the Home Office, shares her experience of working for the first time with the Policy Lab.
Last week, I attended the buzziest and most creative workshop in my civil service career. Buzzy, creative and civil service? In the same sentence? Well, yes actually. And the subject was IT.
Supporting the police
My role in the Home Office means I am responsible for supporting the police to make better use of digital technology. This is not an end in itself but a means to an end. Policing needs to provide a more efficient, effective and easily accessible service to the public. And technology can help the police achieve these outcomes.
This means getting a really good understanding of the needs of users. Understanding how officers and staff need to access and input information on the go or easily capture evidence and build a case file which goes to court, or put a call out for witnesses. Understanding how the public need to report crime quickly and confidently, help the police investigate their case, receive updates on the progression of their case to court and work with their neighbours to prevent crime.
User needs do not stay static; they change over time. Technological advances have an impact people's expectations, but they also mean that we do not need to address them in the same way. It is not enough to digitise analogue processes or simply replace old IT systems. We need to understand current user need and use new technology to re-imagine how things are done.
Policy Lab
So I was quick to jump at the opportunity to work with the Government's new Policy Lab, which takes design practices – including user centred design – and promotes them within policymaking. As part of the College of Policing's Digitisation Programme, which is supporting digital policing by 2016, Surrey and Sussex willingly put themselves forward to try out these new techniques as they created their collaborative, new digital service. They were particularly interested in how technology could improve the way the public tackled problems in their community; and worked with the police through reporting and investigation to solve crimes and ASB. And through the project, we saw many of the benefits of the Policy Lab approach.
First thing was to understand the user need. So we commissioned Uscreates to conduct some ethnographic (or observational) research with victims and officers. Focusing on the user need – rather than the force organisational need – prompted some questions that went far wider than we initially expected, such as how a service that starts with the police and ends with the court be better linked up. It also threw up some ideas about what victims themselves could do, such as create an online diary of incidents so they police could easily keep track of what was happening. Surrey and Sussex are now creating this diary which already demonstrates the impact the Policy Lab work is having.
Improving services for victims
We then opened up this research evidence to a wide mix of people; from graphic and service designers, digital experts, academics, futurologists, frontline officers, neighbourhood watch and policy officials. Throw in Catherine Howe (Public-i) and Martin Innes (UPSI) and some creative thinking and prototyping techniques and you get a pretty impressive set of ideas designed to improve services for victims, ranging from an online skills academy where people could go to learn how to prevent crime to an online court where you could report crime, give evidence and hear the result, all from the comfort of your own living room.
None of this is formal Government policy. In a devolved policing world, it is up to local forces what they do with it. But I hope that Surrey and Sussex, as well as other forces, take forward not only some of the ideas but the user-centred approach that the Policy Lab has helped develop.
Follow the Policy Lab on Twitter  or contact them for more details by emailing Beatrice.Andrews@cabinet-office.gsi.gov.uk.