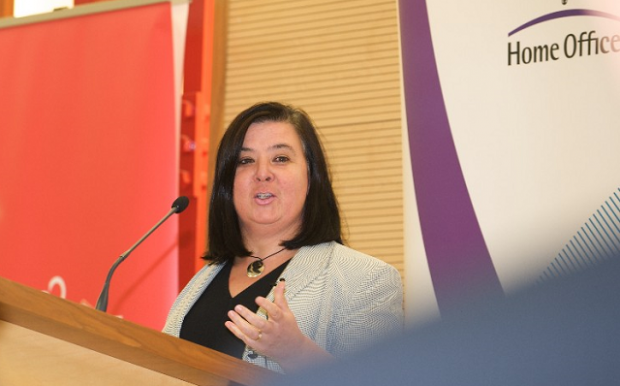 Denise McDonagh has been a leader in technology in government for over thirty years.  As she prepares to leave the civil service, she shares her thoughts on what we're doing well and how we should be braver to achieve more.
Recently, somebody asked me the question, "if you had a magic wand, what would you change about government technology?". I've been giving this some thought as I prepare to step down from my role as Home Office Chief Technology Officer (CTO) on 27 February, looking back over how the landscape has changed since I was first learning the ropes in government IT over 30 years ago, and considering what the future may hold.
Back in the late 1980's, I was at the Department of Health as government technology made the landmark switch from mainframe to client-server computing. This huge paradigm shift in IT required massive changes for those in government delivering and supporting technology. It laid the foundations for the transformation we're undergoing at the moment, as government moves from the huge monolithic contracts of the past, to a far more flexible model, enabled in large part by the Digital Marketplace, the place to buy G-Cloud services.
Disaggregated approach
We embraced the future and reaped the benefits then and I firmly believe we are on track to do so again now. As departments move towards adopting a fully disaggregated approach, we are freeing ourselves from supplier lock-in, and becoming more responsive to the needs of our end customers. Increasingly, too, we're adopting automation, joining up our systems and re-using our assets wherever we can.
We started this process at the Home Office with our Extend and Blend programme in 2009, through which we took our first steps towards a disaggregated approach to supply.
And today we're going further. The Technology Reset Programme is delivering a wholly disaggregated IT infrastructure for the department.  We are achieving this by understanding the needs of our users, breaking services up into components and managing service integration ourselves. Other major technology programmes – like Immigration Platform Technologies – are taking our vision of reuse and commoditisation and making it a reality for mission systems.
I've seen and learned a huge amount during the course of three decades at the heart of government IT. But in recent months, two things have been paramount in my mind:
Focus on opportunities
Firstly: in our people we have the skills, the creativity and the commitment we need (and we're building on this all the time). We just sometimes focus too much on the risks, and not enough on the opportunities to deliver truly transformative change. If we'd listened to all the sceptics and doubters back in 2011, we'd never have got the G-Cloud off the ground. So many people seemed to think it couldn't be done, that it simply wasn't an approach that could work in Government.
Over £467m of spend has gone through the Digital Marketplace, and cloud-based suppliers are helping departments deliver dramatically improved customer services faster, and at reduced cost. Also, we created a market where arguably none existed. A whole new raft of suppliers and most importantly amongst them, British SMEs, are more engaged during a time when they are sorely needed.  It is also notable that the private sector is looking at what we accomplished and coming to us for advice on how we can help them achieve the same success! For example, take a look at the financial services sector, where some major players are now working to disaggregate aspects of supply, and to let shorter contracts without lock-in foster competition and continuous innovation through niche specialist supply.
Working across departments
Secondly: our technology teams need to work hand in hand with our colleagues across our departments. We can't just 'do the technology' – we need to really understand the business and customer need and engage fully in the process of setting strategy and prioritising demand. This becomes increasingly important as we adopt a faster-paced, digital-by-default approach; we need to ensure that the technology we deliver meets the needs of our customers both inside and outside government, and that we are able to respond rapidly as those needs change.
Without question, over the last 30 years, the world of government technology has been transformed, and I am enormously proud to have been a part of that. Yet as I prepare to hand over the baton to our new CTO, Sarah Wilkinson, and to a new generation of CTOs and CDOs across government, the pace of change continues to increase.
Capability and accepting risk
Here at the Home Office we're just completing the first stage of a radical change programme that will create a smaller technology directorate with the types of skills and experience that we will need for the future.
But alongside the need to ensure they have the right capability in place for the challenges ahead, technology leaders of the future need to be prepared to accept risk and adopt different ways of working. The future is going to present some huge challenges for government IT: so we need to be bold and inventive and wholeheartedly embrace the need to change.
A braver public sector
If I had a magic wand, I would want the public sector to be braver.
For each of us to be brave enough to work out loud on what we are doing, and to ask for input from the widest possible audience. Brave enough to share our trials and tribulations, as they are happening. Brave enough to openly admit what went well, and what went wrong. Brave enough to ask people to contribute radical thinking, and then to take their ideas seriously.
I believe the UK is now leading the world in government IT reform as a result of radical thinking and the determination of an outspoken few. But it will take more than a handful of visionary individuals to deliver the level of change we need to achieve over the coming years.
Everybody in government IT has a part to play in the upcoming transformation, and thus I encourage all CTOs to make sure the voices of their teams can be heard. Not just the elite, but anyone who has an idea or who wants to contribute their ways of working.
In my experience the whole is greater than the sum of its parts.  The more of us who share our experiences for others to build on, the better off we will all be.
Don't forget to sign up to the Government Technology blog.