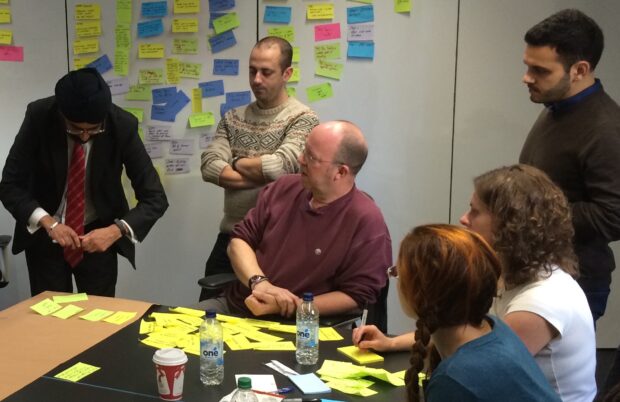 My name is Roger Bearpark. A Senior Advisor within the Government Digital Service (GDS) Reform Team.
Advisors from the Reform Team within GDS are responsible for leading the majority of Digital and IT business case assessments that have to follow the Controls Process. Often referred to as Spend Controls, these cover a  wider remit than just ensuring public money is spent in the right way.
The Home Office Analytics Capability  programme
For nearly two years I have worked with Home Office colleagues on their case portfolio. While it is true that in assessing many hundreds of millions of pounds of proposed spend, with significant savings found, there is also a far greater influence that results in better strategy, business cases and ultimately benefit realisation.
One example has been the Home Office Data Analytics Capability (HODAC), which is looking to support the role of data analytics within the Home Office. This is around establishing the operating model for a centralised data intelligence hub (i.e. maximising the use of data whilst reducing duplication) and defining how this service will support a variety of uses and outputs.  The HODAC goal is to offer a set of services that will support front line activities by allowing for smarter resource decisions.
Starting from scratch, the HODAC programme had the challenge of making sure that proposals would successfully navigate the Controls Process. With some tight time frames to accommodate, it was important that the Controls Process was not an obstacle. The reality is that early engagement with GDS has helped make this easier. setting clear objectives and conditions have, with the committed engagement from both sides, informed decision making and contributed to submissions that follow the Service Design Manual and meet user needs.
The Controls Process is not simply a box ticking exercise, GDS visited the Home Office to see HODAC tools in action.  We were then able to help the department by shaping their iterative engagement with user needs thus increasing the level of success of the project and making sure technical and procedural developments were focused on delivering value.  The benefits of a clearer more frequent release plan have been realised and the risk of being dependant on closed and proprietary products in the pipeline has been avoided.
Andrew Goodman, HODAC programme Director within the Home Office
Collaboration to support user needs
HODAC is not an isolated success story. GDS and Home Office have successfully collaborated in other areas. The inception of the Immigration Platform Technology (IPT)  programme had to contend with a number of risks.  IPT has delivered real success stories and these have come to fruition as Home Office has seen the programme assessed through the Controls Process.
The Controls Process could have become adversarial in nature.  That is not how the Home Office experience proved to be, with sustained and regular communication it has provided healthy challenge and support. The remit of IPT has been considerable, not only tackling aged platforms but delivering new services and benefits. Over the last 18 months or so we have discussed, refined and formally submitted various elements of the programme business case  to the Controls Process.  Approvals have often come with conditions but it is down to the strength and ambition of the relationship with GDS that these have been positives in the life of IPT e.g. reviewing technical architecture choices
Quote from the Home Office.
Giles Conrad, Home Office Biometrics Programme Manager says, Whilst the published guidance for the Controls Process gives a good overview and offers a few answers to questions there is no substitute for talking.
A common theme with all of these cases is that they have not simply entered into the Controls Process, to just pass through a gate. There has been regular, quality engagement with each programme which has been supported by the participation of colleagues from HM Treasury and across Cabinet Office i.e. Crown Commercial Service and the Major Projects Authority. The end results show that the programmes that engage in this way end up more aligned to user needs whilst offering value for money.
Follow Roger Bearpark on Twitter and sign up for email alerts for the Government Technology blog here.