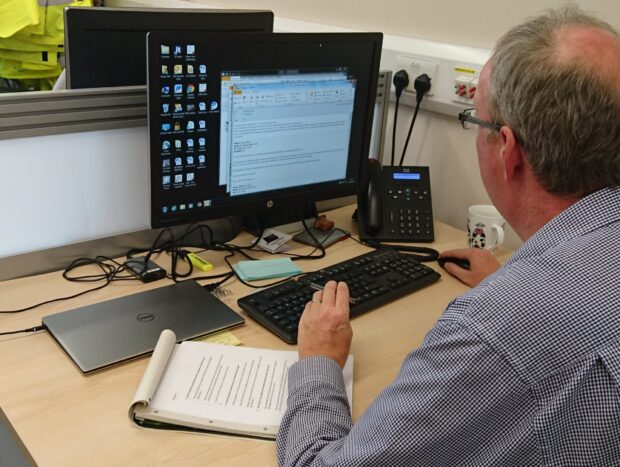 It's funny how sometimes, when you get something new, you can't remember how you lived without it. That is most certainly true for us in the Northern Ireland Office (NIO) following the rollout of our new IT.
When I joined the NIO it was at a crucial time for IT.  It was recognised that the system in use was really having an impact on our ability to get the job done; my role was to be the NIO lead scoping, procuring and installing a new fit for purpose IT solution which was to be flexible, Wi-Fi based and better value for money than our system at the time.
I'm not a particularly technical person, so I have had a steep learning curve, but as is so often the case once you make the right contacts, who understand what you need, progress can be and was remarkably fast. Common Technology Services  (CTS) colleagues involved in the transformation provided technical insight which really helped.
Getting started
In March 2016, the NIO completed phase one of its IT transformation project. As part of a wider departmental transformation project, the goal was simple: we wanted to become a modern, flexible workplace. We wanted the tools to allow us to do our jobs better, to be more flexible and more responsive.
We're a relatively small organisation, with around 130 people, and we're split between two sites in London and Belfast. Our teams and our business areas stretch across both, so video conferencing, emails and document with tracked changes flying back and forth are part of the daily life of the office.
We started by looking at user needs, working with our staff engagement group and the IT user group who did a great job of defining what we needed and helping us find the right solution.
New stuff is cool
The early months were a challenging pattern of contacting departments who either couldn't support the NIO, or whose system's didn't match our needs.
The breakthrough came when we spoke to CTS, part of the Government Digital Service (GDS), who guided us through the process of matching our needs to a system. Our staff were involved throughout which really helped to make sure that the product met their needs.
We've moved from fixed desks and computers, to hot desking, flexible working, laptops and mobiles. We now have a system that allows us to work from more or less anywhere, as long as there's an internet connection, to collaborate with groups of people on documents, forms and communicate via video or instant messaging 'hangouts'.
New kit is exciting. New stuff is cool. But it forms part of change, and change is something that for many people can be unsettling. Because the important thing that was happening wasn't necessarily about the IT, it was about us, the people. The users. And there was nervousness around how we'd get on with learning how to use the new stuff, and how it would integrate with our existing systems and processes.
All change
A specialist supplier supported users by providing training in the new tools, such as how to navigate Google drive, and help the transition to new technology a smooth experience. They'd been working closely with the project team in the run up to the launch of phase one, and, having seen success with the Cabinet Office's digital transformation program, were able to provide considerable knowledge and advice throughout.
And now
So, after a few months with the new IT, here's how it's helping us (direct from the mouths of those users):
My IT skills are fairly basic. I expected to find the new system fairly daunting, but was pleasantly surprised to find it wasn't as bad as I thought. Being able to check emails away from the office is useful.
When writing a speech which covered lots of different policy areas, I was able to share on google docs and invite comments from colleagues simultaneously. Not only was this a massive time saving and reduced version control issue, but colleagues actually responded to each other's comments in the document in a really helpful dialogue.
Being able to work outside the office - not just at home, but also in transit, at cafes etc - has been incredibly liberating.
So, phase one has been a success. We're not not just changing the way we work but our culture is changing as well. Greater flexibility has improved work/life balance and how we work together as a team.
You can find out more about the work of Common Technology Services on our group page or email us. 
Lauraine Hogg is Head of Estates and Services for the Northern Ireland Office.