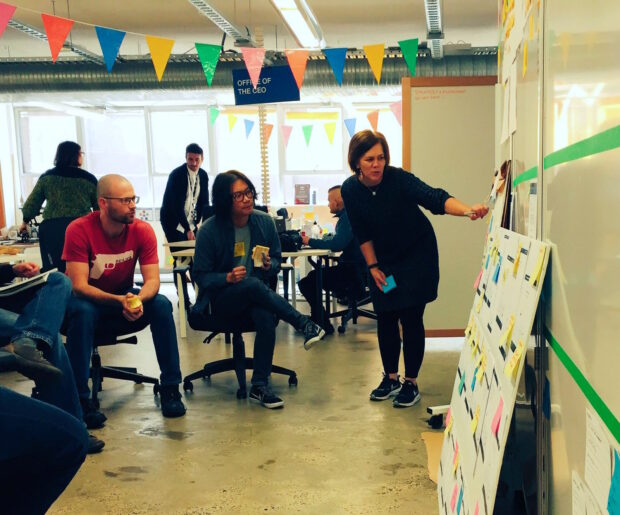 Since April we've been talking to the Australian Digital Transformation Office (DTO) to help them establish their own Digital Marketplace. They were inspired by what we've achieved in the UK, and wanted to collaborate.
In his recent blog post 'removing the barriers to better technology', CTO for HMG Andy Beale said "work that makes a difference should be celebrated, shared and reused."
That's what we're doing. We sent two people from the UK Digital Marketplace team - Caroline Mulligan, service manager and Alexey Bezhan, senior developer and technical lead - to spend some quality time with the DTO team in Sydney, Australia to see how we could learn from each other.
Sharing knowledge, sharing code
By sharing our people and our open-source assets, such as code, design patterns, and guidance, we've helped the DTO release their Digital Marketplace public beta, which went live last week.
We've also made some important progress towards realising our vision for the future, helping the public sector buy what it needs to deliver great digital services.
Catherine Thompson, Head of the DTO Digital Marketplace:
Our collaboration with GDS helped our Digital Marketplace to launch ahead of schedule. We're grateful for the support from our colleagues in the UK and we look forward to our continued partnership in the future.
Scaling the Digital Marketplace
We're working to make the Digital Marketplace scalable, reusable and shareable, in line with other cross-government platforms. We want public sector contracting organisations to be able to open and award their own frameworks on the Digital Marketplace.
Working closely with the DTO team, we'll learn more about:
how they set up their own development so that we have the structure to make sharing code easier in the future

our own configuration so that we can use Government Platform as a Service (Gov PaaS)

the procurement and contracting models used by the Australian government, which may be different to what's used in the UK, and how we may need to think differently about what architecture will support that.
So good that users prefer them
We're working to encourage user-centred, design-led and more open approaches to government procurement, setting new standards, and working together to design government contracts for the digital age.
Working closely with the DTO team, we'll learn more about:
The very near future
We envision having multiple teams submitting code and sharing new features with one another, with consistent approaches to service design that put users at the heart of everything we do.
Working closely with the DTO team, and other governments, we'll demonstrate through delivery our collective ability to be the catalyst for transformation of public sector procurement and contracting, on a global scale, for better public services.
Keep an eye out for further updates and follow the Digital Marketplace twitter account for information around our latest work.