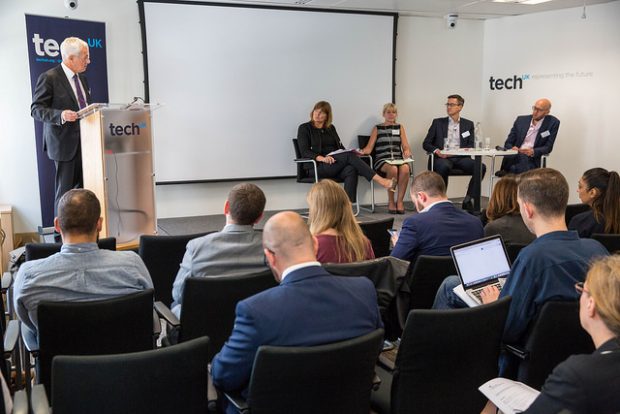 On 7 September Ben Gummer, Minister for the Cabinet Office (MCO), announced the Supplier Standard for Government at techUK. Following the announcement, I spoke on the panel discussing the benefits and challenges we might face in applying the Standard. Highlights of that discussion are in this post on the Digital Marketplace blog.
The Supplier Standard has been developed by Government Digital Service in collaboration with Crown Commercial Service and industry. It ensures that we're building the right thing, in the right way to deliver world-class services for citizens.
The Standard introduces 6 shared principles, which support the best behaviours we have seen from suppliers and buyers.
The 6 principles are:
User needs first
Data is a public asset
Services built on open standards and reusable components
Simple, clear, fast transactions
Ongoing engagement
Transparent contracting
Why it's important for buyers and suppliers
In my previous post: removing the barriers to better technology I spoke about needing to listen to the wider global technology industry. The Supplier Standard supports a collaborative approach between government and industry. We must work with suppliers to identify and understand changes in technology and gain inspiration and ideas for better public services.
This is going to require a culture shift. As Ben Gummer MCO said: "The Supplier Standard is the starting point."
We need to build an inclusive supply chain, where large and small businesses can work with government to ensure successful delivery of digital services and technology projects across the public sector.
To echo Ben Gummer MCO: "Government is going to innovate by having a rich and diverse supply chain".
These principles give current and new suppliers a guideline on how to work with government. The Standard sends a clear message to the market. This is the way government is working now. This is our commitment, and it works both ways.
Tell us what you think
The Standard, which was published on 7 September, is currently in public beta. You can give your feedback on GOV.UK until the 3-month consultation period closes in early December.
The consultation period will also include a series of workshops, details of which will be shared on the Digital Marketplace blog.
I encourage you to take part.