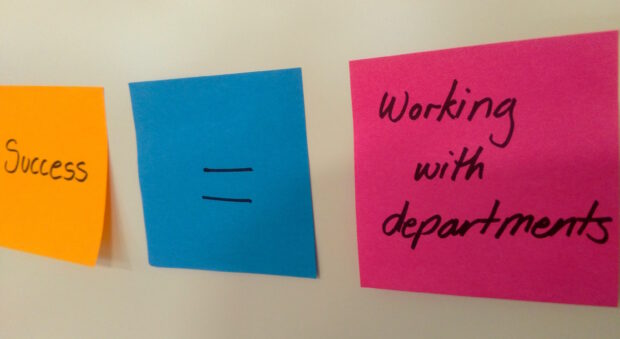 The key to making our work in Common Technology Services (CTS) a success is collaboration.  We are in the process of building relationships with all government departments to understand the technology needs out there and the opportunities to share experience, services and knowledge.
We want to help get technology right for all government workers and we want to hear from you on the technological issues you face and opportunities to improve them.
Delivering on the front line
I've been fortunate to have spent the majority of my Civil Service career working in front line delivery. Every team has had the same things in common: a desire to deliver excellent customer service and support the transformation of government services.
Like many of you, I know first-hand the difference that IT can make in how you deliver your work. We've all had days where we want to kick the printer that has jammed mid print, times when we want to throw a coffee cup at the monitor and moments when you just sit and wonder how difficult it can actually be to share a document with a colleague in another department or arrange a meeting with someone not in the same building as you.
Looking inwards
Over the last 4 years we've seen how GDS has supported departments to transform the way in which citizens interact with government, and GOV.UK has changed the face of government online with more services that are quick and easy to access.
The GDS vision is to help departments work together to transform government. Providing government workers with the right tools will play a big part in changing the relationship between the citizen and the state. So while we've already helped the Cabinet Office and the Northern Ireland Office, it's time to do more and help the c450,000 civil servants who deserve IT at least as good as they have at home.
Better IT that will drive efficiency, accuracy and innovation. And relationships with suppliers that give the right solutions at the right cost.
Find the boundary and jump it
We know that if we want to improve technology across government we need to understand what we've already got. Lots of people are already creating solutions that could solve common IT issues across government. Looking beyond our boundaries and engaging is the way to discover what's out there, what  best practice looks like, pull it together, and help to shape and share it.
Working with departments is central to the work of GDS and CTS. Collaboration isn't just a priority, it's the underlying principle of our approach to transforming technology in government. We want to know how we can support colleagues: what their needs are, the expertise they have and the direction they want to go in. We'll ask for support, input, where we can add value and then we'll deliver together.
Keeping good company
Over the next few months we'll be meeting Chief Technology Officers and their teams to understand where their technology challenges lie, where their expertise sits and where they think CTS can help them transform their technology.
We want to work with them to get an initial picture of their technical, contract and change landscapes to help everyone across government understand where commonality exists and where the opportunities to collaborate are.
We'll share the guidance for common technology that we have already created and have been signed off by the Technology Leaders Network. We'll also share our user research on cross government profiles: a key insight that is helping us understand user needs and technology solutions. As well as learning from the user research already happening across departments.
Communities of interest
We want to build on the technology communities that already exist across government and create new ones to drive, shape and deliver technology transformation.
These communities will be supported by CTS, but owned by the communities themselves, and led by the experts who are best placed to develop the community. These communities will be an opportunity to share knowledge, best practice and build networks, as well as influence the CTS agenda and policy.
Get these communities right and we'll build a far better understanding of your key issues, and get departmental input into products. They can also help develop champions to lead change within departments.
Some communities such as 'safe and filtered internet' and 'identity' are already in place, some, such as 'user research personas' are in development and others such as 'end user compute' and 'contract exit' are being planned. They'll be the opportunity for like minded people facing similar issues to come together and create the right solutions.
Backing you
We are here to help departments provide consistent, transparent and simple technology that allows teams across the public sector deliver excellent public services. It's ambitious, but it is achievable. As Iain Patterson set out in his blog: A new approach to Common Technology Services, with collaboration and the combined expertise of government we can make it happen.
By getting out there, really understanding your needs, identifying where we can add real value and by providing direction and focus to those of you facing these challenges everyday, we have the opportunity to transform the technical landscape for civil servants. Civil servants who are out on the front line, delivering services to citizens and who deserve technology that supports them rather than making them want to throw their computer out of the window and head for the door.
Where do you think we can help? We'd love to hear about the opportunities to get our technology right and also where you've got really good solutions to technology problems that we're all experiencing across government.
You can find out more about the work of Common Technology Services on our group page or get in touch with us.