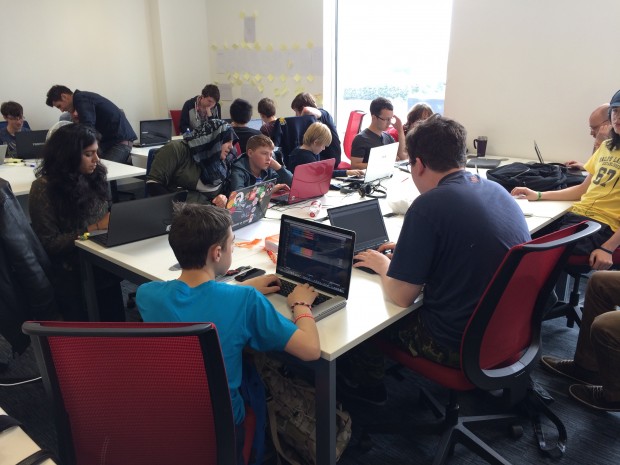 Siju Salami, a Digital and Technology fast streamer, recounts his recent experience of mentoring some young coders at the Young Rewired State Festival of Code.
For one week in August, 750 coders and designers, aged 18 or younger, came together in 48 centres across the UK to code. Using freely available open data, they created great apps, products and web services to solve real world problems at this year's Young Rewired State Festival of Code.
Mentors
Linda Humphries (GDS) and I volunteered as mentors at the Bright Futures Centre in MediaCityUK . The young coders and designers here worked in self-managed teams or as individuals on 8 projects. One of the projects was a game that encouraged children to exercise by taking virtual pets on actual walks. The game's developers were 9-years old or younger.
Teams used a wide range of tools: HTML, CSS, PHP and JavaScript were most common, but there was also CoffeeScript, Node.js, Angular JS, Mungo DB, MySQL, Scala, JCal, Ajax, Scala, Heroku and Visual Basic amongst others. Beyond tools, some teams embraced some techniques that we could recognise as agile in backlog management, iterative design and prototyping.
Finale
After 4 days of coding at the local centres, participants converged at the University of Plymouth for the weekend finale.
The young coders competed in the heats, and semi finals on day 6, showing off their projects in stage presentations to a panel of judges. Fifteen outstanding projects made it through to the finals.
One example was Miles Per Pound. Using just a vehicle plate number, the web service could estimate the real cost of using that vehicle (fuel, insurance, repair and depreciation included). It applied clever algorithms to open data pulled from sources, such as DVLA and VCA databases, to make these estimates. This was a great example of doing the hard work to make things simple.
Growth and development
Lots has been gained this year, as the "YRSers" continue their personal journeys of growth and development. One young coder said that he was now more confident at public speaking, having given an engaging semi-final presentation. He plans to develop further by improving technical skills before next year's Festival.
The future ambitions of these young coders are varied. Some hope to become developers working with recognised technology companies, start-ups or independently. Others plan to move on to other fields, taking along with them, coding skills that will enable interesting cross-discipline prospects.
Learning experience
As a mentor I expected a fun, fulfilling experience from the Festival. These expectations were exceeded. It was a learning experience. Working with the young coders provided useful practice in thinking around problems when you are not a subject matter expert, as well as helping focus the mind and guide the thinking of others.
Engaging with other mentors and centre leads was also great. I met new people:  other civil servants and members of the broader tech community such as those involved in Coder Dojo events across greater Manchester and the Open Data Manchester Group.
Events, such as the Festival of Code, do much good by providing opportunities for young coders and designers to learn and turn ideas into products. Who knows, a digital government leader of tomorrow might just have been inspired by the experience.
Follow Siju on Twitter and don't forget to sign up to the Government Technology blog.