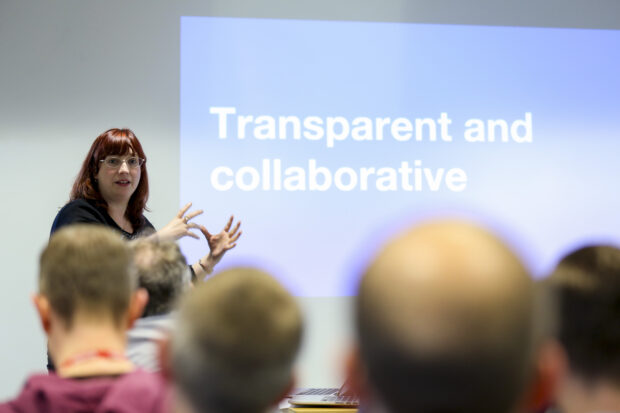 I currently lead the open standards team in GDS which runs the Standards Hub. The Hub is where people tell us about open standards they'd like government to adopt and where we ask for feedback about the standards we're considering. I'm also responsible for the Open Standards Principles and provide guidance and advice on implementing open standards – such as the open document format guidance manual.
I'll be leaving the Civil Service in March, so I thought I'd take the opportunity to reflect on how things have changed in our approach to government technology through open standards over the past 4-5 years.
Understanding the problem
In 2011, when the Government Technology team began to reform the approach to technology across government, we were faced with lengthy contracts, closed technology and it was difficult to share even the most basic data effectively.
We were missing out on the benefits that digital government and good data handling can bring:
we wanted to make services flexible, so that we could adapt to people's needs and keep pace with advances in technology

we wanted to be able to work with both proprietary and open source software, so we could choose the best products to use

we wanted data to be reusable so that policy makers, government services and developers outside of government could all get the information they need to make brilliant things happen
For the past five years or so, I've been part of the team helping to make this a reality. We've been developing policy, defining governance and putting in place the guidance and open standards that government technologists need.
Knowing when to get help
At the very beginning I overheard someone say that there was no one in the Civil Service who was capable of writing an open standards policy. This became my mission: to prove how effective the Civil Service can be, with the right backing and support to get things done.
I looked to those who were building on open standards outside of government: using their knowledge and expertise to find out what works and what doesn't. I listened to users who were frustrated by broken and outdated services. I relied on the expertise of incredibly talented lawyers, economists and technologists across government.  
It became clear that we needed to fundamentally shift how we think about technology, how much we value interoperability, and the mechanics of how we choose and buy technology services.
This couldn't be done just with guidance; we needed new policy, a change in the way all  departments work. That thinking led to the formation of the Open Standards Principles – the policy which is now the foundation of how the UK government delivers services built on the right technology.
When the proposals for open standards became policy in 2012, I was completely taken aback by the reaction. People came up to me at events to shake my hand for delivering a policy document. Not what I expected!
Being open
Working in the open meant we were better informed and properly accountable. It also helped to build trust.
As I became less of an invisible cog and more of a 'human being' people were, unsurprisingly, much more willing to help and to share their ideas. Being transparent helped to make sure we were heading in the right direction and that we were hearing from people with different perspectives.
In 2014, we started work on selecting standards for government documents. We knew that there would be a lot of late nights ahead. But this time there was a global community who would want to have a say, and they brought a level of expertise that we could never amass alone.
Suppliers, governments, developers, academics, technical architects, parents, health workers, charities, all had views to share.
When government adopted open formats it meant that in future no user would have to pay for a software licence to work with the documents we produce. We didn't set out to change the office productivity software industry, but somewhere along the way that happened too.
Where we've got to
The world has changed. Because of the new approach to technology, building on open standards and open data, open source and open markets, government can access new and better software regularly.
When we buy, we can take advantage of many more amazing innovations from the tech industry — because pieces of our systems can be upgraded more easily.  We have much better choices about the technology we put in place to meet our user needs.
I'm proud to have been part of what GDS has delivered and will go on delivering. The reform work continues through the Standards and Service Assurance team in GDS.
It's incredible to see the ripples of openness spread and  what people can do when technology and opportunities are opened up. I get a tremendous buzz from seeing Paul Downey's work on registers and seeing that one of the foundations for the first register is a standard that came through the Standards Hub.
What's next
Dan Appelquist's work on building a technical community across government for people who work with open standards is the surest sign yet that this way of building and implementing technology is now part of the fabric of government.
We need you to keep helping us to make the right decisions.
Log in to the Standards Hub to tell us your suggestions about the problems we should tackle with open standards, or get involved in the discussions with the cross-government open standards community.
Follow Linda on Twitter and stay up to date by subscribing to email alerts for the Government Technology blog.